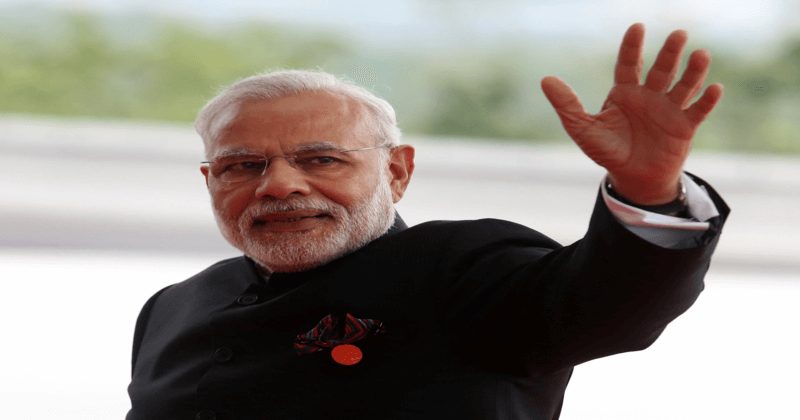 After the laying of the foundation stone of the Zojila Tunnel and the inauguration of Kishanganga Power Project, Prime Minister Narendra Modi hailed the ceasefire put forward by the centre in Jammu and Kashmir as "a chance for youth to have a stable and progressive J&K" and "an awakening call to those who exploit Islam".
After the inauguration of a slew of development projects, PM Narendra Modi said,"The Ramzan ceasefire is not merely a ceasefire but an awakening call to those who exploit Islam. Many countries, which had chosen a certain path, are looking for return routes now. Those youths influenced by foreign forces and attack their own motherland should join the mainstream and take an active participation in J&K's progress and contribute to its pride."
See Also :PM Narendra Modi to inaugurate Kishanganga Hydropower Station
Terming his visit to J&K 'a privilege', he said that centre would provide all the support to make Jammu and Kashmir a crown of the country. Narendra Modi hailed the Kashmir as the sons of Mother India and said that mother's milk will not see any split ever. He brought into notice Vajpayee Government's plan of "Insaaniyat, Jamhuriyat, Kashmeeriyat" and also reminded that India is a land of secular traditions and welcomes all. Modi also said that he is the disciple of Vajpayee's policy of "Kashmeeriyat'.Modi reiterated his Red Fort Speech in which he had emotionally said that the need of the hour is to embrace every Kashmiri and not to abuse them or use bullets against them.
Modi explained the central plans of appointing a representative to talk with all groups for strengthening the peace progress. He exhorted that the civil society, intellectuals and religious leaders should put all their energies in the progress of J&K. He added that only 'Vikas(development)' will make a new J&K which is stable, peaceful and progressive. Taking a dig at Pakistan he said that there are forces that do not want J&K to be progressive and happy. He said that J&K can be part of a new India with the best education, best airports and best roads.
The sacrifices by the Security Forces of India in keeping the borders secured were praised by Modi in his speech. He praised the security forces for their co ordination and the hardships they faced in J&K. The speech was started in Kashmiri and it was concluded by the Kashmeeri lines "Khodah devnay khosh to khoshhal" (May God bless you and keep you happy).
The speech was delivered by him after he had laid the foundation stone of the Zojila Tunnel, inaugurated Kishenganga Project and had also laid foundations for the Srinagar Ring Road at SKICC, Srinagar.
Now the PM is going to head for Jammu's General Zorawar Singh Auditorium and inaugurate development projects there too. Union Minister for Road Transport and Highways, Shipping, Water Resources, River Development and Ganga Rejuvenation Nitin Gadkar will also be present at the event.