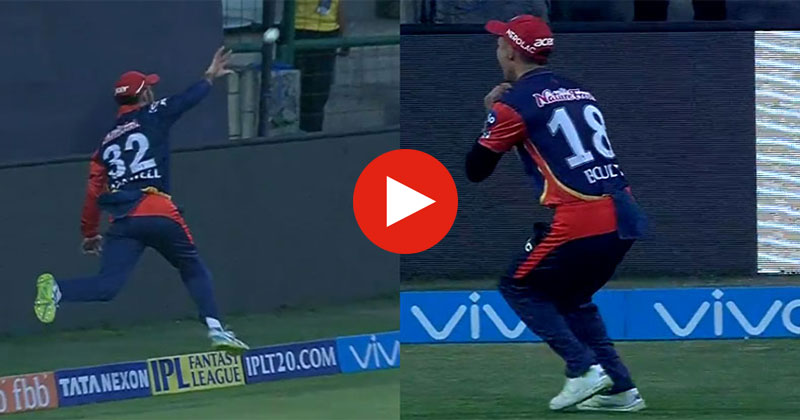 International Cricket Council's (ICC) new rules on catching at boundary have given way to relay catches where one fielder near the boundary throws the ball into the field and the other one takes it comfortably.
Glenn Maxwell and Trent Boult pulled off not one but two relay catches at the boundary in the clash against Mumbai Indians (MI). The catch gave tough competition to Mayank Agarwal and Manoj Tiwary's tag team catch to dismiss Ben Stokes in Match 38.
The first catch was that of Kieron Pollard. The Windies all-rounder tried taking on 17-year-old spinner Sandeep Lamichhane. When Maxwell realised he was going off balance, he threw the ball towards Boult before going over the boundary rope. Boult positioned himself nicely to take the catch without any hassle.
See Video: 
Maxwell-Boult's relay catch https://t.co/uRk0WLh5Bs

— shahinrs (@voiceofshahin) 21 May 2018
The second catch was that of MI skipper Rohit Sharma. This was taken with umpteen perfection. Rohit's miscued shot off Harshal Patel went towards long-on fielder Maxwell. This time around he flicked it towards Boult who did not even have to move much from his position.
Also Read: Delhi Daredevils Knock Mumbai Indians Out of IPL
See Video: 
M55: DD vs MI – Rohit Sharma Wicket https://t.co/Ty9GgXPnkC

— shahinrs (@voiceofshahin) 21 May 2018
It will be apt to say that 'catches win matches' as dangerous players Rohit and Pollard lost their wickets in a must-win clash. Before the relay catches from the duo, Vijay Shankar too took the catch of Ishan Kishan and gave his team a breakthrough on a small ground where hitting sixes becomes easier against spin bowling.
The trend of relay catches was started by James Weatherland and Ben Laughlin in Big Bash League (BBL) 2017-18.