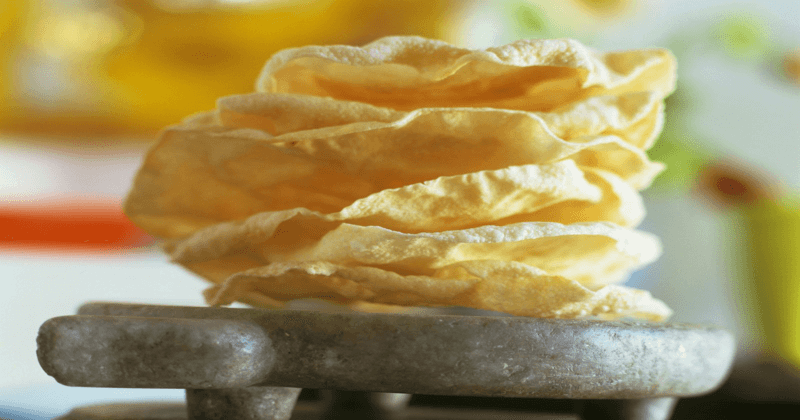 The crunchy, crispy snack "Pappadam" is a favorite delicacy among the Keralites. Made from orid dal, flattened like chapathy, Pappadam is fried in aromatic coconut oil and has been a part of our 'sadhyas'(feasts) for long. The Kerala combo of Puttu(steam cake) and Pappadam is in vogue even among foreigners! So Pappadam is not a silly thing. But our unique homemade snack is also getting adulterated by profit mongers nowadays! There has been a gradual shift from the healthy orid dal to the unhealthy maida flour, all for the sake of profit! oh, come on, you profit mongers are also humans and also consumers in one or another way. Then why are you spreading venom in the food chain?! Pappadam had been a good snack which could supplement the western, cancerous junk snacks. But what is the current situation? Let's see.
Eating "Fake Pappadams" will make you sick, terribly sick and let you reserve a ward in the SCT Cancer Institute. As per the statistics, one day about 3lakh fake Pappadams are  being sold in the state. In these crunchy venoms, the ingredients include harmful chemicals like Sodium benzoate.
See also:The only place in Kerala where we get Jack fruit Coffee
What is in "Fake Pappadams"?
In these unhealthy and toxic "Fake Pappadams", orid dal is replaced with maida flour, Sodium carbonate(washing soda) is used instead of Sodium Bi-Carbonate(Baking Soda), instead of Palmoil Sodium benzoate is used. Sodium benzoate is a known carcinogen, that is gradual accumulation may cause cancer. Another important thing to understand is that you cannot recognize a fake Pappadam from an original one.
So how can we understand through observation?
Yes, Sure. Open your eyes and look. The maximum shelf life of Pappadams made out of orid dal will be 8 days. Then now let's look at the fake ones made from maida and other chemicals. They can remain without getting spoiled for 2 months! If you are an avid Pappadam lover and regularly use 'Fake Pappadams', you are prone to acidity, ulcer, and cancer in large intestines. In kids, it may lead to Hyperactive Disorder.
The test for the original Pappadam
First, buy from the market your favorite branded or unbranded pappadam. In a flat plate put a Pappadam and pour water immersing it. Leave it there untouched for half an hour. After that take the Pappadam out. If the flour is slabby, then the Pappadam is made from orid dal. If no change has come, then its surely fake. After the experiment check the water in which the Fake Pappadam has lied, it will be greasy thanks to the presence of Sodium Carbonate and palm oil.