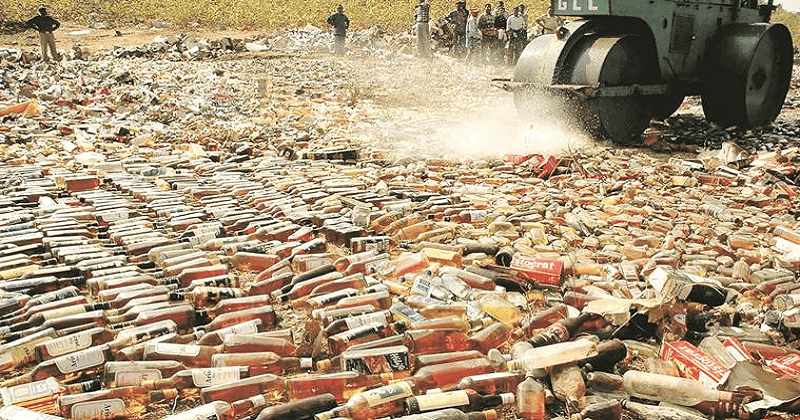 The Gujarat Police destroyed liquor worth Rs 1 crore in Ahmedabad's Ramol on Wednesday morning because of the sale and consumption of liquor is prohibited in the state. Gujarat has a regulatory law in force that prohibits the manufacture, purchase, sale, and transportation of liquor in the dry state.
Gujarat, after its formation in 1960 out of Bombay State, continued the ban and still it is in active mode. So basically, the manufacture, sale, consumption, and storage of alcohol is illegal in the state. But that hasn't stopped a massive industry of illicit liquor widely prevalent in the state.
Andhra Pradesh, Haryana, Tamil Nadu, Mizoram, and Manipur are all states have a partial or complete ban on liquor. But the alter in governments, as well as a negative feedback from the public, have forced political parties to reverse the decision. Widespread smuggling and sale of illicit liquor have also been the reasons for such bans to collapse.
Read More: Lancet Study(2016) Put India 145th in Healthcare: Kerala and Goa the best in the country
Bihar became the fourth state in 2016 to put the complete prohibition of alcohol. The Nitish Kumar government had first banned the manufacture, trade, sale, and consumption of country-made liquor since April 1, 2016, but later put a blanket ban on all types of liquor, including foreign liquor, in Bihar.