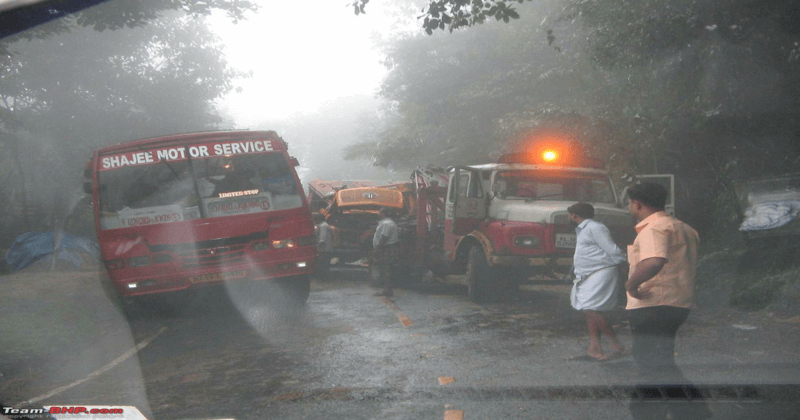 A meeting of Transport Commissioners and Regional Transport Officers was called by the Motor Vehicles Department (MVD) to discuss the precautionary measures taken by the authorities to reduce road accidents during monsoon. In the meeting called at the Transport Minister A.K.Sasheendran's chamber, the details regarding the special checkings to be conducted from 1/6/2018 to 30/6/2018 were discussed.
See also:Shocking Road accident Kills three
The decisions are as follows:
1. The autos ferrying children to and fro from schools, school buses, private vehicles etc should be checked near various schools and colleges.
2. The autorickshaws and other vehicles which carry more children than the prescribed capacity of the vehicle should be found out and the license of the concerned driver should be cancelled. In the case of auto drivers, their permits should be cancelled.
3. The fitness of all these vehicles should be ensured.
4. The vehicles do not make sure the safety of children should not be allowed to service.
5. Minor drivers to school should be dealt with seriously and make sure they don't repeat it.
6. Special checkings should be conducted around bus, auto, taxi stands.
7. The working of the vipers, window shutters should be checked. The working condition of brake lights and tail lamps should be made sure. The officials have to check the condition of tyres also, whether its worn out or of good condition.
8. The vehicles with the above condition unfulfilled should not be allowed to do service and also their fitness certificates should be cancelled.
9. During this prescribed period, the services of the Taurus, Tipper lories should be put under special surveillance.
10. These Vehicles should maintain their time chart as prescribed.
11. In these vehicles too the conditions of vipers, brake lights, tail lamps and tyres should be checked and if found negligent their service and the fitness certificates should be cancelled.
12. Vehicles with malfunctioning/dysfunctioning Rear view mirror, Tail lamp, brake light, indicator, headlight should not be allowed to hit the under any circumstances.