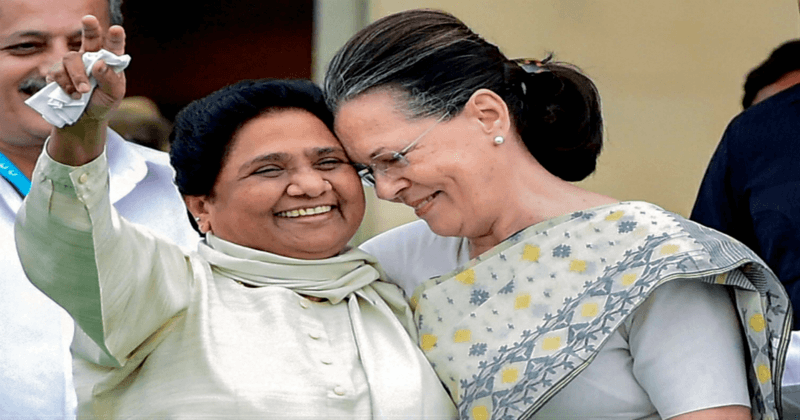 After the success of a last-minute alliance in Karnataka, Congress is about to try the same proxy war tactics eying at the elections in Madhya Pradesh. Congress wants to scuttle the BJP which has 15 years of experience in ruling Madhya Pradesh with a support from Mayawati and her Bahujan Samaj Party(BSP).
The sources said that the discussions were still in preliminary stages but the possibility that the two parties could end up working together in assembly elections, considering the semi-finals for the 2019 elections, was "quite plausible".
See also:Now the truth is out: Congress made fake phone calls to target BJP!
The erstwhile dominant status of Congress is now more thanks to the sweeping BJP wave in 2014 across the country. Congress repositioned itself as a facilitator giving more importance to the smaller parties which became evident from the giving of HD Kumaraswamy's JD(S) an upper hand in the coalition decisions. The Congress had given up the Finance Portfolio for the JD(S) there.
Congress with 36% vote share is now trying to get the 6% Dalit vote share of BSP with a possible alliance with them. Congress thinks that will be enough to beat BJP which secured 45% votes there. A Congress leader from there told the media that from 45% vote share of BJP, a few percentages would be shaved off due to the anti-incumbency against Madhya Pradesh CM Shivraj Singh Chouhan unless the opposition made any mistakes.
NDTV Sources found out that BSP was looking forward to a coalition with Congress in Chattisgarh and Rajasthan as well where they had 5% and 4% vote share respectively.
The Congress has not spoken out about the seat sharing till now but is ready to concede considerable space if the other party's candidate is expected to win the seat.
Congress is affirmative about a coalition in Chattisgarh but there are oppositions for that in Rajasthan, sources say. The Congress will decide on nature and spread of the alliance later but it is open to an alliance with any non-BJP party in Rajasthan.
Yesterday Jayant Chaudhary of Rashtriya Lok Dal told NDTV that the Congress should involve regional parties in states such as Rajasthan and Madhya Pradesh where Congress was the principal opposition party for best results.RLD has a strong Jat Community vote base and if a coalition happens, it may help Congress in Rajasthan.