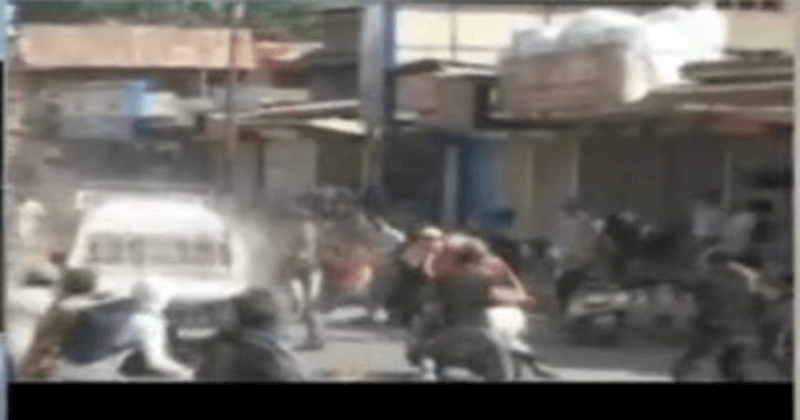 In downtown Srinagar, a CRPF vehicle returning after dropping their senior officer was attacked by protestors amidst this violent situation the vehicle ran over 3.One among the 3 injured was declared dead later, which triggered a fresh wave of protests. The Police filed two FIR's against the CRPF Srinagar Unit and charges of rash driving and murder were put on them.
The incident which happened just a few days before the proposed visit of Union Home Minister Rajnath Singh might cast a shadow over the center's efforts to reach out to Kashmiri Youth for which they even announced a risky ceasefire on the holy month of Ramadan.
See also:In Jammu and Kashmir, soldier commits suicide
Union Minister's visit is significant as it deals with two important matters, the review on the preparations for Amarnath Pilgrimage due to begin on June 29 and to engage with all stakeholders including Hurriyat leaders regarding the Kashmir imbroglio. More importance is given to the latter issue. The latest incident may dampen that outreach.
One video footage that has emerged shows the vehicle getting encircled by a hostile mob and they trying to force their way into the vehicle and the driver trying to escape from them by driving away. In another video clip, the vehicle is seen driving through the violent mob who are throwing stones and bricks from close range and some people removing the injured. Some photographs showing the vehicle just before it ran over the youth are also doing its rounds in the social media.
National Conference leader Omar Abdullah was quick to attack CM Mehbooba Mufti on this incident. He tweeted"Ceasefire means no guns so use jeeps," inviting Mufti's attention towards the standard operating procedure of dealing with protestors.
Jammu and Kashmir  Police tweeted that the videos and pictures that had shown the aggressive mob attacking the CRPF Vehicle were just "selective" and that it did not present the whole scene.
National Conference workers termed the alleged incident of man run over by a CRPF jeep as "haunting".
"The gypsy was attacked – that's a fact – yes. However, it's a failure of the local police in the area to have allowed a CRPF gypsy to pass through an almost 200 strong hostile crowd", tweeted National Conference spokesperson Junaid Azim Mattu.
Mattu blamed the police for the incident and alleged that every single civilian casualty in Kashmir was due to continued, repeated failures at crowd control, sanitization of encounter sites and policing blunders. Mattu asked, "It's not rocket science! You allow a CRPF gypsy to speed through a hostile crowd – didn't you know this could happen?."