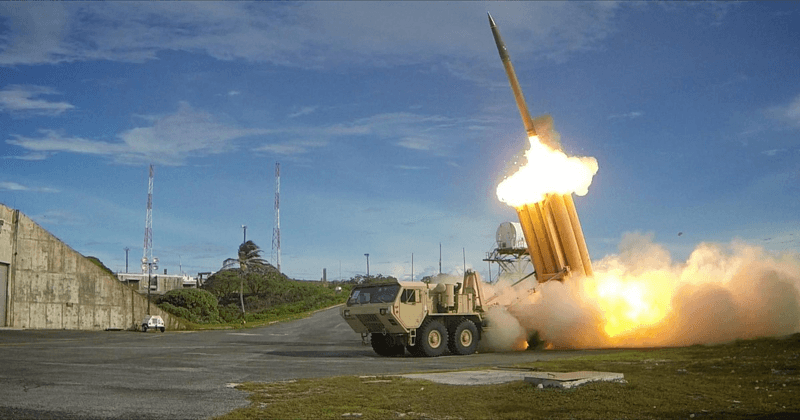 In order to boost European Defences, the US military had held preliminary discussions about moving a powerful defense system to Germany, said Reuters Exclusive report. The proposed move may trigger fresh tensions with Moscow.
The US decision to send Terminal High Altitude Area Defense(THAAD) system to Europe predated the US President Donald Trump's decision to withdraw from the 2015 Iran Nuclear Accord, and now this act is termed as a move which has come amidst a broader push to strengthen Europe's air and Missile defenses.
There are apprehensions between the US and Europe against the fate of the nuclear agreement but both are concerned about Iran's continued development of ballistic missiles.
Iran's Shahab 3 missiles have a 2000km range, that too constrained as part of the strategic doctrines not due to technological constraints. The current range is enough to reach Southern Europe and the declaration of Revolutionary Guards that they will increase the range if threatened is viewed as a threat by the European countries.
See also:Trump says US-North Korea summit is back on June 12
Riki Ellison, Head of the Non-profit Missile Defense Advocacy Alliance said that the European Union had been pushing for a THAAD system in Europe for years, but the US withdrawal from the Iran Nuclear accord had added urgency to the issue.
A need to add more radars across Europe and cue interceptors if needed was cited by a senior German military Official.
Anyhow the US Defence Department denied any such action to deploy THAAD systems in Germany. But the news of deployment of THAAD missile system in Europe has come against the backdrop of rising tensions between the West and Russia. Though NATO had long insisted that the Missile Defense Programme was not anti-Russian, the alliance adopted a tougher stance in the wake of poisoning of a former Russian spy in England.
Moscow denied any involvement in the poisoning issue and blamed NATO's eastward expansion and its assembly of a ballistic missile shield with a key site in Romania that had been declared Combat ready in 2016.
The proposed movement of THAAD to Germany might help them to plug a radar gap caused by a 2-year delay in the completion of a second Aegis ashore missile defense site in Poland.
A U.S. Military Official affirmed the preliminary talks with Germany on moving a THAAD system to Ramstein Air Base in Germany, headquarters for the US Air Force in Europe and NATO Allied Air Command. Another source said that the German Officials were open to the move as it offered a better way to protect civilian populations. German endeavors on building its own short and medium-range missile defenses are on the way. A review on territorial missile defense by Germany will also include a look at THAAD and the Arrow 3 anti-missile system built by Israel and the US.
Though German Foreign Ministry has not made any confirmation so far about the American deployment of THAAD Missile System, the US can do it anytime even without German consent thanks to the contracts between them.
The Lockheed Martin Corp built THAAD Missile system comes with a powerful Raytheon Co AN/TPY-2 radar, to shootdown short-, medium-, and intermediate-range ballistic missiles.