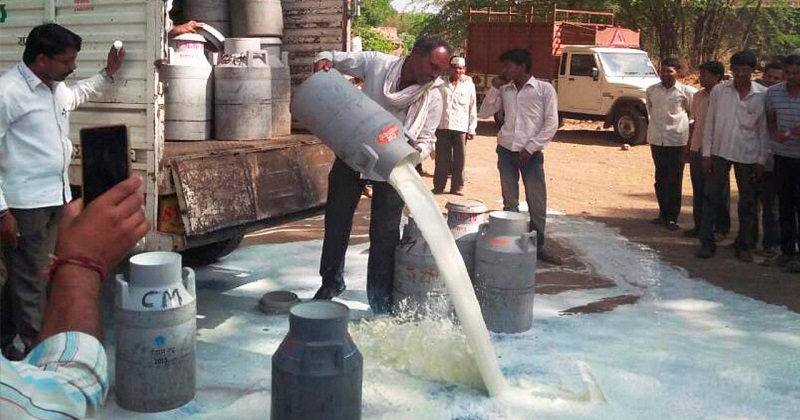 As the 10-day pan-India "Gaon Bandh" (rural shutdown) protest called by farmers' group entered the fourth day, prices of fruits, vegetables, and milk shot up in metros and several cities.
In Delhi, prices of vegetables like french beans and ginger soared by a whopping Rs 40 per kilo, while some registered a marginal increase. "Low supply and high demand of items lead to the increase in the prices," a Mayur Vihar-based vegetable seller said.
Nagpur: Protesters spilled milk on road against Union Agriculture Minister Radha Mohan Singh's remark on the ongoing farmers' strike; distributed milk to locals who came up with utensils requesting for it #Maharashtra pic.twitter.com/ke71cKYJpm

— ANI (@ANI) June 4, 2018
Farmers stopped the supply of essential items, scattered milk and other field-produce on the streets, to register their protest. There have been no reports of violence in the ongoing agitation. Overall, the protest remained peaceful, even as Opposition tried to target the BJP-ruled Centre over the agitation. Vegetables were sold at some places under police protection.
Also Read: PM Modi should sack anti-farmer agricultural minister says CM
"The farmers are supporting the agitation in a big way because of which the supplies are not reaching the cities (from villages). The government is trying to break the protest but has failed" Aam Kisan Union chief Kedar Sirohi told IANS. Several leaders of the Opposition raised their voice against the Centre on social media.
Communist Party of India (Marxist) leader Sitaram Yechury tweeted, "Farmers feed the country. Modi's ministers mock the 'Anna Daatas' by terming their protests in a bid for 'publicity'. This from a govt that spends Rs 4,343 cr on its own publicity, and has "no money" to ensure that farmers get their due."