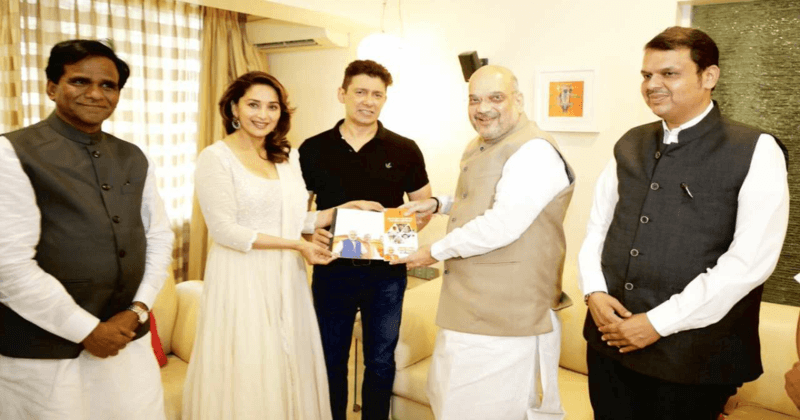 Totally alarmed at BJP's "Sampark for Samarthan" campaign in which BJP President Amit Shah along with other BJP dignitaries met personalities like Madhuri Dixit Nene, Ratan Tata and Lata Mangeshkar, Congress wrote letters to Madhuri and Ratan tata telling not to believe BJP's lies.
President of Mumbai Regional Congress Committee(MRCC), Sanjay Nirupam, wrote separate letters to Ratan and Madhuri and advocated to understand the truth of BJP which had failed miserably in giving good governance to the people of the country. In the letter to Ratan Tata, he wrote,"I beseech you to understand the truth and not fall for the lies of Amit Shah. I am sending a booklet to you which clearly identifies and explains that the BJP has not been able to do anything for the people of this country in the past 4 years".
See also:Madhuri Dixit's meeting with Amit Shah for 'Sampark for Samarthan' campaign : see photos
Nirupam said to Tata that he had always supported secular forces all his life, hinting at his earlier support to Congress and that the BJP had spoiled the secular fabric of the country.
To Madhuri Dixit, he wrote,"As an artist, you can understand how different forces work together in the creative space as well and this has clearly suffered during the BJP rule. We should work together to stop these forces from gaining ground".
Becoming vociferous about the rising unemployment and corruption in the country, Nirupam added that the BJP Government had failed on all the fronts whether it be on economic parameters, social harmony or international relations.
Sanjay contended in the letters that the BJP government's ill-conceived fiscal policies had hurt the industry and economy including small businesses, agrarian economy and corporates.