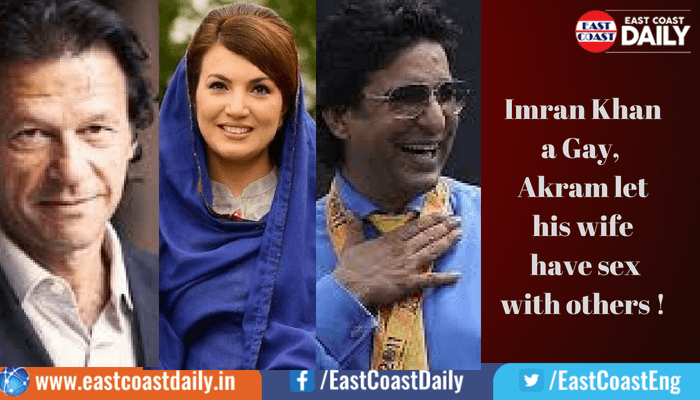 Former Pakistani Cricketing legends Imran Khan and Wasim Akram, who were part of the World cup lifting team in 1992 will have to face a hurdle of different sort now. Imran's ex wife Reham Khan has made a shocking revelation that the former all rounder Imran is a gay and that Wasim Akram has weird sexual fantasies. She has received a legal notice for her statement.
see also: India and Pakistan come together for this mission
Reports say that Reham claimed that Wasim Akram used to let a man of African origin to have sex with her while he watched. Reham added that Imran has sexual relationship with his fellow political party member Murad Saeed. Saeed soon responded in Twitter.
I have nothing to say about Reham Khan's allegations and whatever filth the woman's written about me or anyone. It's shameful beyond words. It's pretty obvious whose hands she's playing in, the woman and her aides have totally lost the plot.

— Murad Saeed (@MuradSaeedPTI) 5 June 2018
See how fans reacted to the accusations.
So Basically according to #RehamKhan
1- All Political Ladies are prostitutes
2- All Female Media Female are Whores
3- Mostly Men in pakistan are Gays
4- Imran Khan is Worst than a Evil.
5- Only Shahbaz Sharif, Nawaz Sharif and Hamza Shahbaz are men and Honest 1/2

— Pakistani ?? (@ZK_Pakistan) 7 June 2018
According to Reham Khan, imran khan, hamza ali abbasi and Murad saeed are gay. First of all, who the fuck gave her the right to talk about other people's sexuality?? Living in a society as homophobic as ours she's literally putting their lives in danger.

— a (@Abbasayy) 4 June 2018
Reham deserves no accolades.She scandalised married life for publicity and some money . In purported book she also breached trust of people she met Professionally . For Imran Khan she has an axe to grind . It's damn sinister . The move seems politically loaded

— Kamran Khan (@AajKamranKhan) 5 June 2018
Woman like Reham Khan is a reason I'm afraid to get married

— Haroon (@ThisHaroon) 3 June 2018
The accusations are based on the leaked copy of her book. She has been given two weeks to change the manuscript.