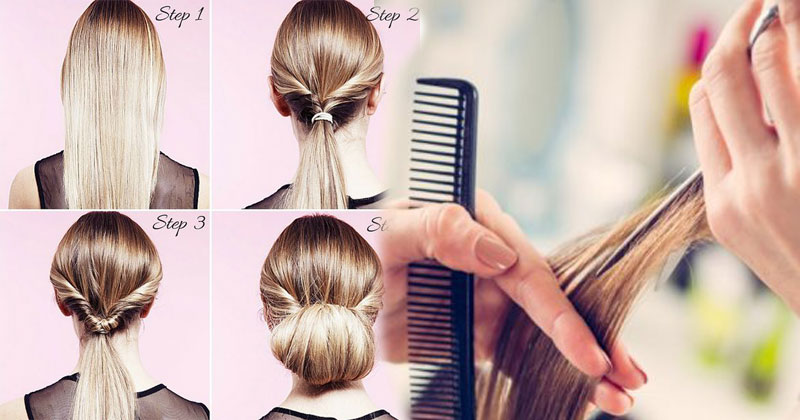 Hairstyles will give you some quick and easy ideas on how to style your hair for any occasion in 10 minutes or less.
All the women from starting always love to make bun as they feel so much comfortable with that especially in the summer season but modern women use this hairstyle in winter season also and that is the ever most loved one style for winters this gap style is just because the trend of making a bun is changed now.
At first, women only make bun little upward from the neck but now a lot of styles are introduced to change that old bun trend and women's are so much inspired by all the new bun hairstyles.
Try Out This Trending Bun Hairstyle. Just follow the steps as given below:
Step 1:
Wet your hairs with a freshwater hairspray and then dry it first with a towel then with a hairdryer. If your hairs are curly then after using a hair dryer, you can straighten it with fast brush hair straightener, it will give you the best hair look and will help in making a bun perfect.
Step 2: Comb or brush your hairs, it's up to you but to comb hairs will be more good for it. Remove all the tangles if present.
Step 3: Part your hairs from the front top middle side and then tie it with a pony at the back, bit upward from the neck.
Step 4: Hold ponytail in your hand and put one finger on the pony and move the hairs round, your hairs are of middle length then in three rounds it will be finished and now check that your hairs are around a pony and your finger is right at the centre.
Step 5: Remove your finger from that point and tie the end side of tail with a black pin under the hairs that it should be completely invisible and also check that your hairs are around of pony and there should be a space between middle point and round tail
Step 6: Now you can use hairspray of any type of hairs so that your bun looks perfect and a simple and easiest way of making a bun is here.
For long hairs: All the steps will be same just you have to make a bun right above your ears and part hairs from the front side in flick puff and ponytail rounds will be four or five or maybe more than it, it only depends on your hair type and hairs length.
Also Read:Easy And Trendy Hairstyle Hacks