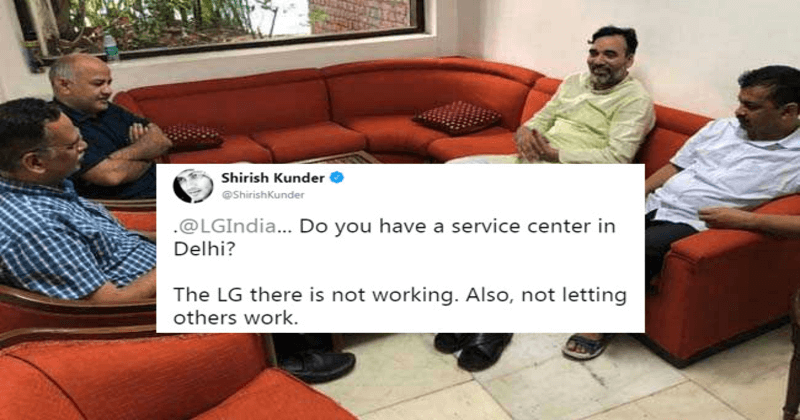 On the recent Delhi stalemate regarding the Lieutenant Governor Anil Baijal and CM Arvind Kejriwal and his colleagues, is recently making its ripples in the social media too. The Delhi LG has been working from home as his office has been taken by Delhi CM and his colleagues to protest. The reports are that Delhi LG is currently checking the files regarding the Delhi Police, Delhi Development Authority and other departments at his residence and the files which deal with Delhi Government has not been sent to him as the CM and the Ministers are in a sit-in. Between all this imbroglio, a sarcastic tweet by the filmmaker Shirish Kunder has been making a trend in Twitter.
See also:In Delhi, Kejriwal being punished for defeating Modi : Yashwant Sinha
The Director usually takes his humoristic stand on many topical issues, and now he is seen tweeting to LG Electronics asking whether they have any 'service center' in Delhi as 'the LG here is not working'.
[email protected]… Do you have a service center in Delhi?
The LG there is not working. Also, not letting others work.
– Shirish Kunder (@ShirishKunder) June 16, 2018
Though it seems that this lighthearted comment has been taken seriously by the LG Electronics as they have tweeted:
We regret the inconvenience caused. Please DM us your contact details so that we can assist you shortly.

— LG India (@LGIndia) June 16, 2018
The Twitterati is seen laughing over the conversation :
OMG!! This one is killer

— Sushil Jain (@SushilJ1960) June 16, 2018
Wow … his is what we call humour! Even @LtGovDelhi must be smiling ~ ????

— Dr.S.P.Singh MD (@medico956) June 16, 2018
Ha ha this one is one of the best.. So very miraculously hilarious.. Thanks for keeping the Twitter posts live..

— #MufflerTiranga (@vipinxsharma) June 16, 2018
The AAP leaders are in a sit-in Dharna at LG's (Lieutenant Governor's) residence for about 6 days for the central intervention to solve the issue. They demand central intervention to stop the boycott of the bureaucrats against their elected government, allow go-ahead for distributing grains under PDS(Public Distribution System) at People's homes which are now stalled by LG's stand.