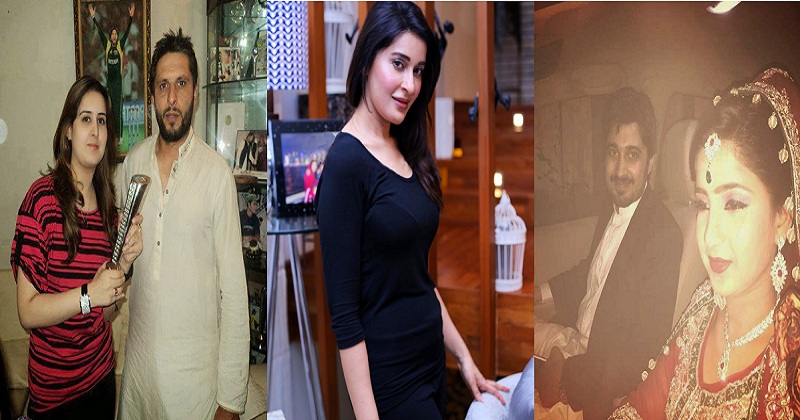 Shocking ! These Pakistani celebrities married their own sisters – See Pics
In modern Society, it is not seen in high regards if you marry your own cousin. But in Pakistan, this is a common norm.
While now in the higher society of Pakistan, youngsters have now protested against marrying their cousins but overall the situation is not good. The marriage between cousins still happens.
Astonishing Facts about Pakistani Marrying their Cousins
In the USA, 24 states out of 50 have banned marriage to their cousins. According to a 2014 survey in Pakistan, the shocking results came forward:
1)82.5% of the parents in Pakistan have been found having a blood relation till the third generation. It means that they have either married a cousin or someone close in the same family.
2)While 6.8% of the married couples are cousins an additional 6.3% comes from the same family.
3) Only 4.4% protested when it comes to marriage between cousins.
Take a look at some Pakistani celebrities who married their own sisters.
1. Shahid Afridi
Former Pakistan Cricket Team Captain Shahid Afridi married his First Cousin Sister, Nadia, with whom he played since Childhood. 
2. Babar Khan
Babar Khan is a popular TV actor of Pakistan. His first wife Sana Khan died in a car accident. Babar Khan was in Limelight when he married his cousin Bisma Khan who is a student of 9th class.
3. Reham Khan
Imran Khan was recently in the news because of his high profile divorce with Reham Khan. Her first marriage was with her British psychiatrist cousin, Ejaz Rehman when she was 19.
4. Shaista Lodhi
Shaista Lodhi is a Pakistani morning show host and TV presenter. She divorced from her husband Waqar Wahid in 2012. In 2015, she married her businessman cousin, Adnan Lodhi.
Also Read : Meet the most beautiful bodybuilder in the world : See Pics
5. Nusrat Fatah Ali Khan
There is no Gazal and Qawwali Lover who have not heard of the name 'Nusrat Fatah Ali Khan'. He was very famous during his time. He married his cousin Naheed Nusrat who was his uncle's daughter.
6. Saeed Anwar
This Pakistani batsman married his cousin sister Lubna Anwar in 1996.
7. Samid Marvi
Samid Marvi is a very popular Pakistani folk and Sufi singer. She is married to Hamid Ali Khan. They have three children together. Hamid Ali is the son of her Uncle.