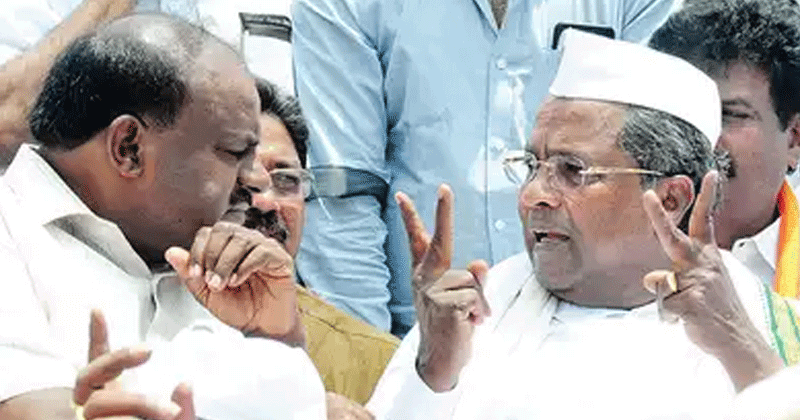 The Congress-JD(S) is getting ready to present their government's first ever budget. But there seems to be a confusion on the budget presentation.
With just 9 days left for the budget presentation in the parliament, the Congress-JD(S) have clashed over Whether HD Kumaraswamy should present a full budget or a partial one on the 5th of July. While former chief minister Siddaramaiah is opposed to a full budget, the CM wants to go ahead with it.
Congress President Rahul Gandi too backs HD Kumaraswamy's full Budget presentation. Deputy Chief Minister G Parameshwara and Water Resources Minister DK Shivakumar have supported Kumaraswamy and said it was natural for a new government to table the budget. Meanwhile, sources say that Congress wants to have a say in major policy decisions in Karnataka.
Parameshwara, who is the former state Congress chief, was quoted as saying, "It is routine for any new government to present its own full-fledged budget that would reflect its promises and commitments to the electorate." On Monday, Kumaraswamy said an attempt was being made to create confusion about the presentation of the full budget. "Talks are going on about whether the budget has to be presented or not… I don't know, because, last time when the budget was presented in February about hundred legislators who were there then have lost (election), and about a hundred new people have come (as MLAs)," he said.
Addressing a meeting of representatives of cooperative banks, Kumaraswamy said: "They (new MLAs) don't know (about the old budget). If I continue with the vote on account that was approved by the then MLAs, who have now lost, we will have to see whether it will lead to the breach of privilege of new MLAs."
READ ALSO:  This is Gowda' s mantra to Kumaraswamy on dealing with BJP
"If someone brings in a privilege motion, what should I do? There are issues," he said. Kumaraswamy also holds the finance portfolio.
Recently Siddaramaiah, also the chairman of the Congress-JD(S) coordination committee, had openly suggested that there was no need for a fresh budget and insisted that a supplementary budget would do. On Sunday, a video clip purportedly showing Siddaramaiah, who held the finance portfolio in the previous government, expressing his displeasure over the presentation of the fresh budget to few Congress MLAs had gone viral.
"…if a single party had come to power, then they can go ahead and table a new budget and we cannot have any objection. But he (Kumaraswamy) became CM with our support. The Congress has already tabled the (last) budget."
Kumaraswamy, without taking any names, said, "Some have suggested that let the budget be presented after the parliament election, so there are issues.."
A few days ago, Siddaramaiah had asserted that he had already tabled the budget as chief minister a few months ago. "Budget has already been tabled. It is a full-fledged budget only. That's why we had taken a vote on accounts for four months. It will be there till July end. All the ongoing programmes and new programmes announced in the budget will continue," he said. Kumaraswamy had responded to this by saying, "Whenever a new government comes to power, it needs to demonstrate what its goals are."
The state cabinet will hold a 10-day session of the legislature from 2 July.