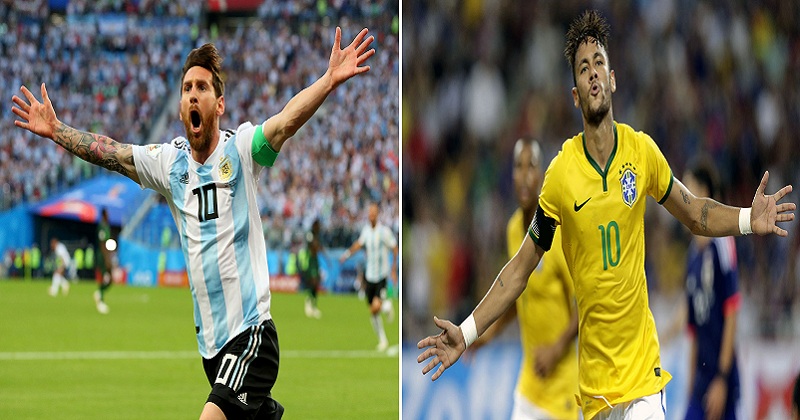 Football is the most broadly played sports on the planet. Skills, strategies, goals, and celebrations are several terms that define the ecstasy of this attractive game.
Football players are considered not less than a celebrity plus their reputation is discussed all over the world.
Here's the list of richest football players in the World
1. Cristiano Ronaldo – Net worth €250 Million ($321.5 million).
According to Goal.com, Ronaldo earns more than €19 million ($24.4 million) each year. He makes money by endorsing renowned brands like Motorola, Nike, Armani and Tag Heuer. Ronaldo also has his own CR7 brand which sells aftershave and clothes, according to Forbes. He is the richest soccer player with a most significant net worth of $321.5 million.
2. Lionel Messi — Net worth £230 million ($295 million).
According to Goal.com, Lionel Messi earns £26 million ($33.4 million) a year from his latest contract renewal with Barcelona. He also makes £21 million ($27 million) a year by endorsing brands Adidas, Pepsi, Gillette, and Turkish Airlines. With a net worth of $295 million, the Argentine forward is the second richest footballer.
3. Neymar Jr – Net worth €135 Million ($148 million).
Brazilian footballer who plays for Paris Saint-Germain, Neymar is known to be one of the greatest footballers and strikers nowadays. Probably the most profitable player in the world, Neymar's income noticed him make €36.8 million in 2017 by Forbes. In August 2017, Neymar moved from Barcelona to Paris Saint-Germain in a transaction worth €222 million, making him the world's most expensive player..
4. Zlatan Ibrahimovi? — Net worth £110 million ($141 million).
Swedish international plus the most entertaining and popular player in the world, Zlatan Ibrahimovic. Although, his contract at Manchester United has expired. However, he still trains at the club's Carrington headquarters. Also, he is expected to re-sign with United in the second half of the 2017/18 season, after recovering from injury. The net worth of Ibrahimovic stands at $141 million today. Regardless, he has a lucrative contract with Nike and even patented his own name in Sweden.
5. Wayne Rooney — Net worth £93 million ($120 million).
Wayne Rooney is a skilled, talented, richest and popular English professional footballer. He left Manchester United as the club's all time leading goalscorer, returns to boyhood club. He took a 50% pay cut to join Everton, which reportedly pays him £7.8 million per year.
Also Read : Shocking….Footballer David Beckham predicts World Cup 2018 finalists
6. Kaka – Net worth €96 Million ($105 million).
A passionate Brazilian professional football star Kaka currently plays in the MLS League in the USA. As a Real Madrid star back in his prime, Kaka has been regarded as among the best midfielders nowadays. He is furthermore the highest-paid player in the MLS League generating $7.2 million each year along with his Orlando City Club. His endorsement deals worth $5.5 million each year is what furthermore places him within the set of the richest football player on the planet. The Total wealth of Kaka is $105 million at the moment.
7. Eden Hazard — net worth £77 million ($100 million).
According to Forbes, Eden Hazard earns £12.4 million ($16 million) per year at Chelsea. The Belgian attacking midfielder is sponsored by Nike but also endorses trading card company Topps and Biscoff biscuit manufacturers Lotus Bakeries. Hazard, Belgian professional footballer who plays for English club Chelsea and the Belgium national team. He is often ranked as one of the best players in the world, by coaches, colleagues, and commentators. He also has been described as "a superb passer" and has earned critical acclaim for his playing style.
8. Samuel Eto'o – Net Worth €87 Million ($95 million).
Samuel Eto'o is the only African footballer who is among the world's richest footballers together with his income of $95 million still on the top rank. He packed the FIFA World Player of the year award in 2005, though has the honor to mention two European continental trebles. He has treated as the pride of his country winning numerous titles such as all-time leading scorer, third most capped footballer and obtained 56 goals from 118 caps. Samuel furthermore remained highest-paid player in the globe even carried out more than 100 goals in 5 seasons with Barcelona.
9. Raul – Net worth €85 Million ($93 million).
One of the most skilled and talented Spanish professional soccer players Raul is taking part as a striker for New York Cosmos Club and also on the list of top 10 richest footballers worldwide. In spite of his retirement, still he has the enthusiasm to entertain the audiences with his extra- ordinary kicks in the stadium. This football star has a net worth of $93 million while has been playing as a striker with real Madrid for 16 years.
10. Ronaldinho – Net worth €83 Million ($90.5 million).
Ronaldinho Gaúcho better recognized as Ronaldinho is a Brazilian legend football champion who has been recently obtained 33 goals as far as nicely played 97 matches. He is performing as an attacking midfielder or even forward for Mexican club Queretaro while is on the 9th place with earnings digits of $90.5 million. He was considered as the FIFA World Footballer of the year in 2004 and 2006 plus the Ballon d'Or (2005).