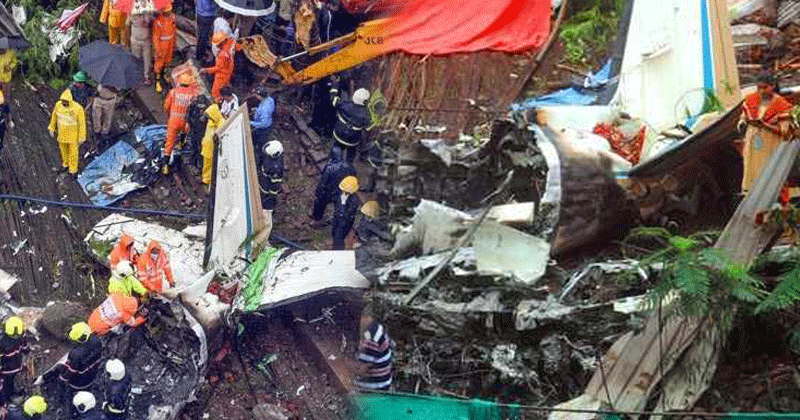 While the Mumbai plane crash's pilot has been praised for averting the damage as much as possible, there were still collateral damages.
The ill-fated King Air C-90 twin-turboprop that crashed in Ghatkopar on Thursday was insured with state-owned Oriental Insurance Company for Rs 7 crore. The insurer is understood to have appointed surveyors and lawyers to assess its legal situation.
Any private aircraft operator is required by the Director General of Civil Aviation to have a comprehensive insurance policy covering the aircraft, its passengers and cargo, crew members and third-party liabilities. The aircraft VT-UPZ owned by UY Aviation is understood to have the mandatory cover.
READ ALSO: Mumbai plane pilot's quick action saves many; husband blames aviation co.
Sources said the insurance company is currently studying whether any terms of the insurance cover have been violated given the reports that the aircraft allegedly flew without an airworthiness certificate.
The crash resulted in the death of the two pilots, a mechanical engineer and a junior technician. It also killed one pedestrian and injured two others on the ground.
Insurance industry officials say Rs 7 crore is a very low sum insured for a 12-seater aircraft. However, the plane had been grounded for nine years and was purchased for a very low value.
In the past, there have been cases where an insurance company has rejected a claim. The Kerala Aviation Training Centre had taken an insurance policy for a Cessna aircraft which crashed. The insurer had rejected the cover on the grounds that the aircraft was used for purposes other than mentioned – flying training. It said the crash had taken place during an aerobatic manoeuvre. However, courts had subsequently issued orders in favour of the insured on the grounds that the insurance policy was vague.