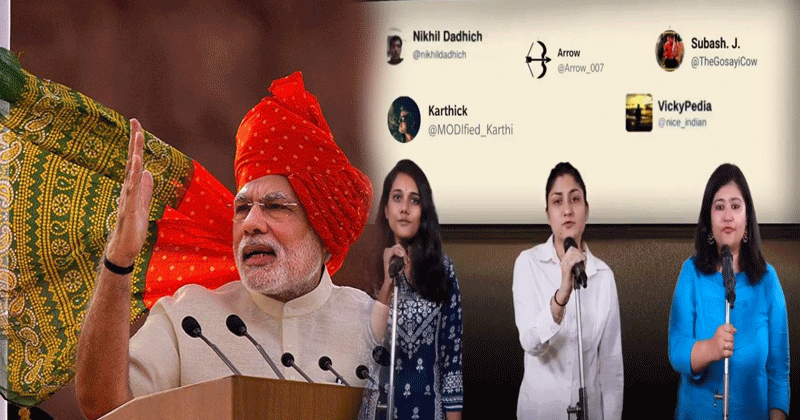 Yesterday was 'World Social Media Day' and Prime Minister Narendra Modi was dedicated a song by the Congress party with a small advice.
The Congress party's women members advised PM Modi to unfollow trolls on social media. Launching a social media campaign titled #PrimeMinisterUnfollowTrolls, the Congress used Social Media Day to tell the PM that some users "blessed" to be followed by him harass women online.
And the best way to convey your message and garner the attention you need- sing a song!
On Saturday, 30 June, the Congress posted a video showing some members of the party's social media team singing a song set to the music of the iconic Beatles number "Let It Be" with lyrics that highlight the vicious abuses and threats that are hurled by the trolls.
Watch the VIDEO below:
Tired of online trolls, the women (and a few men) of the Congress social media team have put together a video making a collective plea to the Prime Minister @narendramodi this Social Media Day. Do watch ? #PrimeMinisterUnfollowTrolls pic.twitter.com/w7P7DPOIIN

— Congress (@INCIndia) June 30, 2018
The social media community has increased to 226 million users in India of which only 23% are women. 1 of the major reasons for few women users is excessive online harrassment. Many of these trolls in India are 'BLESSED to be followed' by the PM.#PrimeMinisterUnfollowTrolls

— West Bengal Congress (@INCWestBengal) June 30, 2018
Through the song, the Congress alleges that the trolls are "Sanghis" and are "followed by Modi-ji". It ends with a call to the Prime Minister to "be a real PM unfollow them please".
Yesterday, the Prime Minister took to Twitter to comment on the tremendous change social media has brought about in the world.
"Greetings on #SocialMediaDay! The world of social media has played a key role in democratizing our discourse and giving a platform to millions of people around the world to express their views and showcase their creativity," wrote the PM on Twitter.
"I would particularly like to congratulate my young friends for their innovative usage of social media. Their frank method of conveying opinions is extremely endearing. I urge youngsters to continue expressing and discussing freely. #SocialMediaDay," tweeted the PM.
Modi came to power at the Centre with a massive mandate in 2014. The success of the BJP in that year's Lok Sabha elections has been attributed to an effective use of social media besides other traditional strategies.
With 43.2 million followers on Twitter, PM Modi is the third most followed political personality in the world after former US President Barack Obama and current US President Donald Trump. He has 43.2 million followers and follows 1,942 tweeps, many of these are heads of states.
But a report released by Twitter Audit in February 2018 revealed that he was also among the world leaders with a very high number of fake followers.
"Everyone should learn from social media. I adopted social media as a source of information, as a highway that helps me connect with the masses," Modi had said in April 2014, just before coming to power.
READ ALSO: Kerala CM slams Modi government over Swiss bank rise; demands explanation
Regardless, the Twitter tweeted & chirped away as users voiced out their opinion on the social platform:
Tweep @SwatiRajak3 wrote:
Today on the occasion of #WorldSocialMediaDay we would like to request #PrimeMinisterUnfollowTrolls

— Swati Rajak (@SwatiRajak3) June 30, 2018
And, @lakshmiaakula tweeted:
Some of the online handles Modi follows send out rape threats,death threats & indulge in communal incitement. Modi is the only leader in the world to follow such handles.
A collective plea to PM Modi this Social Media Day.@INCIndia#PrimeMinisterUnfollowTrolls @MahilaCongress pic.twitter.com/s4wuK3KAnX

— lakshmiaakula (@lakshmiaakula) June 30, 2018
Twitter user @msgpahujaa added:
It is indeed baffling why the PM Modi follows abusive trolls, who spew venom against women and others on Twitter. The video put up by @INCIndia women is a manifestation of the anger people and Women in particular feel about PM following such people #PrimeMinisterUnfollowTrolls pic.twitter.com/wmd733cyKI

— Maanmohan Singh Pahujaa (@msgpahujaa) June 30, 2018
Recently, India's External Affairs Minister, Sushma Swaraj, was the latest high-profile person to become the dartboard of the country's social media trolls. Ironically, she is a member of the Bharatiya Janata Party (BJP), led by Modi.
Many questioned why Modi was silent about the troll attack on Swaraj.
Tweep @VinayDokania wrote:
The PM didnt stand up when his own female minster @SushmaSwaraj was trolled
And some people expect that Modi will unfollow trolls by seeing a twitter trend.
Clearly Trolls are the Ventilators that keep Modi alive,without trolls Modi is nothing. #PrimeMinisterUnfollowTrolls pic.twitter.com/bWLWJvK58E

— Vinay Kumar Dokania (@VinayDokania) June 30, 2018
Tweep @inclusivemind also asked: " If #PrimeMinisterUnfollowTrolls who will make him win 2019?"
Tweep @simpleriyaz highlighted how Modi was encouraging right-wing ideologists who used social media to harass people. He wrote: When your trolls start to troll you, it is high time you unfollow them. Following trolls may not mean you encourage their tweets. But a PM following trolls gives them indirect right to harass innocent people. #PrimeMinisterUnfollowTrolls"
@PrabhatTewari07 agreed: "I request Modi ji to understand that promoting abusive trolls on SM(social media) is the worst thing a PM can do #PrimeMinisterUnfollowTrolls."
In a 2017 article, BBC quoted Pratik Sinha of Alt News, a website set up to fight fake news in India, as saying: "A huge majority of… people that Mr. Modi follows are politicians, bureaucrats, and journalists, but a significant number of them are people who denigrate critics and political opponents in most horrendous language."