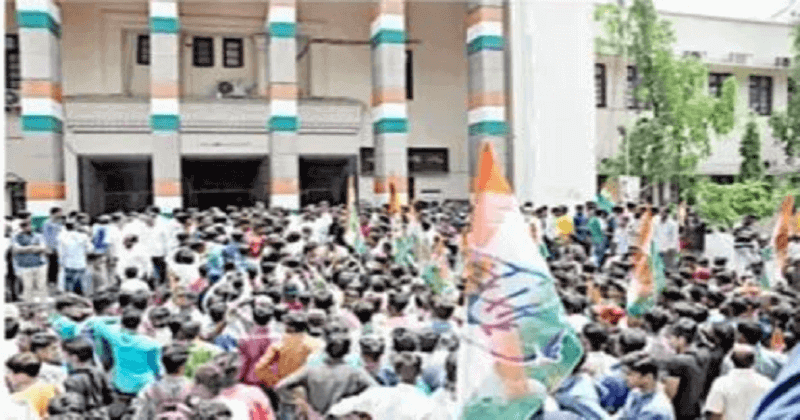 H: yderabad: Congress party organised a huge rally on Monday asking the TRS Government to fulfil its major electoral promise of giving 12% reservation in jobs and education to Muslims of Telangana.
The 'Walk for 12% Muslim Reservation', organised by GHCC Minorities Dept chairman Shaik Abdullah Sohail, was led by Telangana Pradesh Congress Committee (TPCC) President Capt. N. Uttam Kumar Reddy. AICC Telangana Incharge R.C. Khuntia, AICC Minorities Department chairman Nadeem Javeed, AICC Secretaries Srinivasan Krishnan and Saleem Ahmed, Leader of Opposition in Council Mohammed Ali Shabbir, former PCC Presidents V. Hanumantha Rao and Ponnala Lakshmaiah, ex-union minister Sarve Satyanarayana, Hyderabad DCC President M. Anjan Kumar Yadav, Youth Congress president Anil Kumar Yadav, Minorities Dept chairman Khaja Fakhruddin, TPCC Spokesperson Syed Nizamuddin, Kaleem Baba and other leaders participated in the padayatra which witnessed the participation of thousands of party workers.
see also: Subramanian Swamy has to say something about PDP-Congress alliance
Uttam Kumar Reddy alleged that KCR was trying to wash off his hands from the promise of 12% Muslim reservation. He said KCR should also apologise for lying in Assembly that Prime Minister Narendra Modi had agreed to enhance Muslim quota. "KCR had promised to implement 12% Muslim quota within four months after coming to power. Today TRS Govt completed 49 months in power and there are no signs of its implementation. TRS should not seek votes from Muslims if 12% quota is not implemented," he said.
Further, Uttam Kumar Reddy said that the KCR Government failed on all fronts with regard to the welfare of minorities. He said that the Wakf Board was not granted the promised judicial powers and not a single inch of encroached land has resorted. Similarly, nothing was done for the promotion of Urdu language and the government even failed to constitute the new Urdu Academy even after four years.