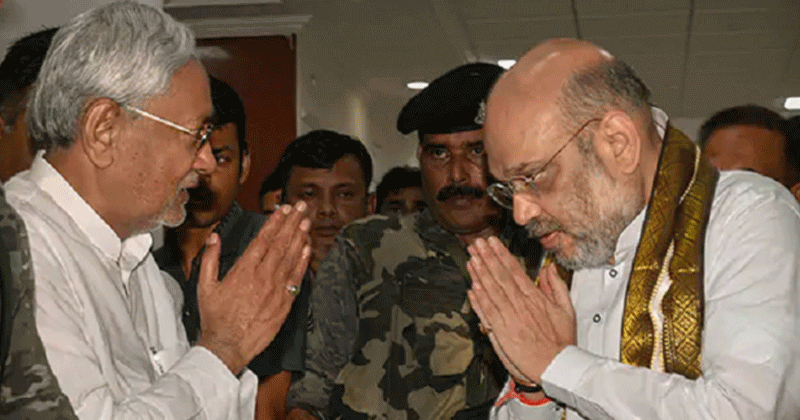 Has the JD(U) and the BJP decided to join hands ahead of the 2019 elections?
BJP President Amit Shah has assured that the BJP will continue to support the JD(U) in Bihar.
The Opposition was against the union of the BJP-JD(U) alliance, particularly thr Congress, Amit Shah said: "Nitish Kumar returned to NDA fold because he couldn't continue with corrupt people. Our alliance is strong and will contest together in 2019". 
Shah said this while addressing BJP workers and around 10,000 Shakti Kendra managers and Vistaraks at Patna's Gyan Bhawan.
BJP chief Amit Shah had earlier met Chief Minister Nitish Kumar over breakfast at state guest house where other senior BJP leaders including Deputy Chief Minister Sushil Kumar Modi, BJP state president Nityanand Rai and state in-charge Bhupendra Yadav were also present.  Later in the evening,  he met Nitish Kumar at his residence over dinner where sources said that the two leaders discussed various important issues including seat allocation between BJP and JD(U) for 2019 general elections. 
This meeting is of importance as the 2 parties have been at the other's throat over the allocation of seats and who will whom in the 2019 elections.
READ ALSO: BJP-led NDA in Bihar will remain intact, says Ram Vilas Paswan
Nitish Kumar has been worried about the issue and wanted the BJP to discuss the seat-sharing formula for 2019 general elections and settle it on "equal terms". Reports suggest that the BJP is not willing to go with 2009 formula where JD(U) had contested on 25 seats and won 20 seats in Bihar. The 2015 assembly election formula was also turned down by senior BJP leaders. 
Amit Shah had assured the Bhiar Chief Minister that the BJP will respect the status of JD(U) and settle the seat allocation between all allies amicably at the earliest.  
"BJP is the only party which respects its alliance partners. All NDA allies including Nitish Kumar's party JD (U) is intact and we are confident that NDA will win all 40 seats in Bihar and Narendra Modi will return as Prime Minister," Amit Shah said.
This was Amit Shah's first Bihar visit after his party lost in 2015 assembly elections but he had met Nitish Kumar in August last year over lunch to discuss political issues in New Delhi.  Apart from his meeting with Bihar CM Nitish Kumar over breakfast and dinner Amit Shah also took stock of poll preparations in Bihar. He addressed around four meetings in Patna on Thursday – three at Gyan Bhawan and one at the state guest house.  While addressing BJP workers at Gyan Bhawan he launched a scathing attack on the opposition party and said that Bihar was the first state from where the drive of Congress Mukt Bharat started.
"They may have combined together against the NDA but we are going to win 2019 general elections. The BJP will not rest till it forms a government in all states including West Bengal, Karnataka, Kerala and Odisha. The opposition parties only agenda is to remove Prime Minister Narendra Modi but our agenda is to develop the country and eradicate poverty". While referring to some of the recent statements made by Congress President Rahul Gandhi on the issue of the surgical strike he said that "Rahul Gandhi doesn't understand what surgical strike is because his party is in alliance with Lalu Yadav they only know what Chara (fodder) is".