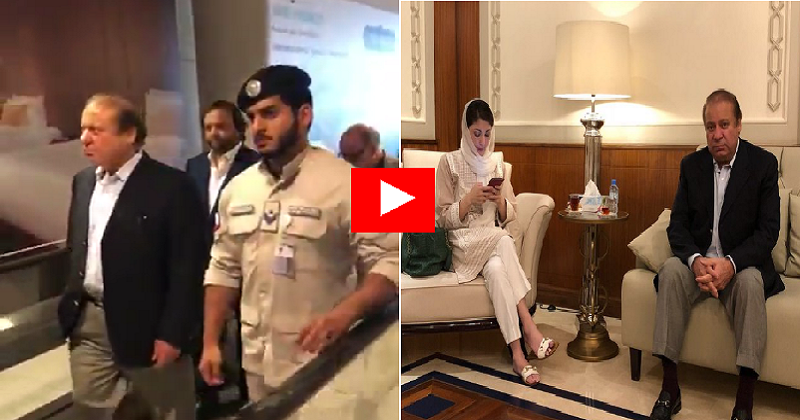 The Pakistan Muslim League-Nawaz (PML-N) supremo and his daughter departed from London late Thursday and have presently reached Abu Dhabi, from where they are expected to reach Lahore around 6pm. 
In a video message posted on Twitter, Nawaz said, "I have done all that I could. I know I have been sentenced for 10 years and that I will be taken straight to prison." 
In the message posted by Maryam, he asked people to "please support me and walk with me at every step. We must change the country's future. This opportunity will not come again." 
Also Read : London Police arrests Maryam Nawaz's son  Junaid Safdar
"I have to tell the Pakistani nation that I am doing this for them. I am giving this sacrifice for your coming generations…for Pakistan's future," Nawaz added.
Authorities have mobilized more than 10,000 police officers ahead of their arrival and plan to block roads with shipping containers to shut down the city of Lahore. Supporters of Sharif's Pakistan Muslim League-Nawaz (PML-N) party say they will march to the airport there, where the former prime minister is due to land, in defiance of a ban on all public rallies.
Sharif is returning from Britain one week after an anti-corruption court handed him a 10-year jail term over the purchase of luxury London flats and sentenced his daughter and political heir to seven years in prison.
Their return could shake up an election race marred by claims Pakistan's powerful military was skewing the contest in favor of ex-cricket hero Imran Khan.
Move like a hero , live like a lion #NawazSharif and @MaryamNSharif move in Abu Dhabi airport for EY243 pic.twitter.com/2D1QJxGM6J

— Saima Farooq (@SaimaFarooq) July 13, 2018
???? ???? ?? ???? ??? ???? ???? ?? ?? ?? ???? ?? ! pic.twitter.com/TqG2evM0wn

— Maryam Nawaz Sharif (@MaryamNSharif) July 13, 2018