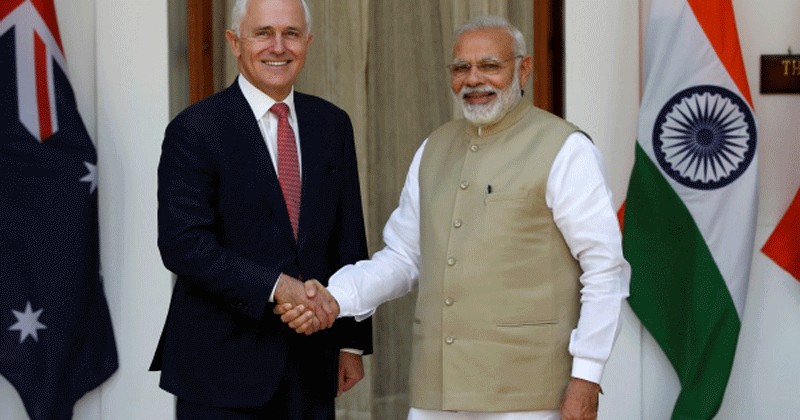 Will India trade ties with Australia strengthen with this new economic strategy that the latter has come up with?
Australia released an unprecedented India economic strategy on Thursday, which aims to put substance into a growing strategic relationship between the two countries. The lead author of the strategy, Peter Varghese, former foreign secretary and envoy to India had been tasked with this project by the Australian prime minister Malcolm Turnbull. The economic strategy paper comes soon after the foreign policy white paper by the Australian government, which made a big space for relations with India, pushing India to among Australia's top strategic partnerships.
The strategy prioritizes economic and trade opportunities in India across 10 states, covering 10 sectors, and according to the report, "designed to plug Australian business into India's growth story to 2035, matching Australian strengths with Indian priorities." The strategy charts out the big picture in the Indian economic and political landscape in the coming decade, including the factors most likely to influence markets, business choices and the economic environment.
Like in the US, Indian diaspora in Australia is expected to play a big role in building these economic linkages, says the report, highlighting the importance of the largely prosperous 700,000-strong Indian-origin population in Australia. At 3% of the Australian population, Indians are the fastest growing diaspora.
READ ALSO: Subramanian Swamy Says Modi's Ministers Lack Knowledge about Economics
"The Strategy recommends that Australia strive by 2035 to lift India into its top three export markets and make India the third largest destination in Asia for outward Australian investment. This would see Australian exports to India treble to around $45 billion, and investment in India rise 10 times to over the $100 billion mark.".
Australia's trade minister, Steven Ciobo was quoted as saying, "India's scale alone encourages ambition, but it is the complementarities between our two economies that will determine our success. The foundations for an enhanced economic partnership with India are strong, underpinned by people-to-people ties and shared values."
In his report, Varghese says India has always been described as "too hard" by Australian business. That, he says in the report, must change, for three reasons: "scale, complementary economies and spreading the risk".
He adds that the Australian government needs to place a sharper focus on India, "unambiguous commitment by Australian business and a deeper understanding by both government and business of the magnitude of what is unfolding in an Indian marketplace which will only get more crowded. They will also require an approach to the investment relationship with India that markedly differs from the trajectory of Australian investment in most other Asian markets." This is largely because, as the report observes, India marches to its own tune, which makes it difficult to replicate approaches.
The report identifies 10 sectors in an evolving Indian market where Australia has competitive advantages. "These, in turn, are divided into a flagship sector (education), three lead sectors (agribusiness, resources, and tourism) and six promising sectors (energy, health, financial services, infrastructure, sport, science, and innovation)."