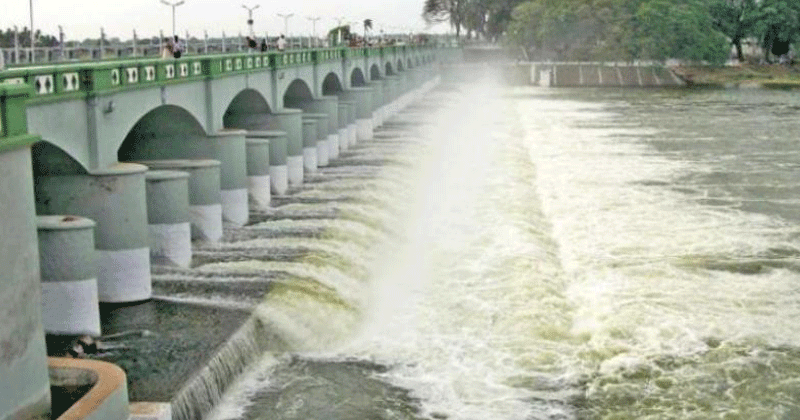 Amid the heavy monsoon rains that India is currently experiencing, Tamil Nadu received water from Karnataka.
With the state receiving 17 per cent more rainfall than usual  this South West Monsoon as much as 26.5 TMC of water has already reached Biligundlu in Tamil Nadu since June 1, just 7.5 TMC short of the 34 TMC Karnataka has been directed to release to the neighbouring state by the end of July by the Supreme Court.
With rain continuing to batter the Cauvery catchment area, all the dams in the basin, including the Krishna Raja Sagar (KRS), Kabini, Harangi, and Hemavathi continue to receive heavy inflow and having reached full reservoir levels (FRL) in record time, are releasing huge quantities of water into the rivers. 
The KRS released the bulk of 81,842 cusecs to the Cauvery river leading to Tamil Nadu, followed by Kabini which released 35,800 cusecs on Tuesday.  
READ ALSO: Cauvery Water Row: Karnataka & Tamil Nadu to strategize their viewpoints
The Hemavathi reservoir released 31,875 cusecs to the river leading to KRS dam and Harangi reservoir 21,873 cusecs to it on Tuesday.
The KRS received as much as 71,964 cusecs, taking its water level to 122.40 feet as against its capacity to store 124.80feet,  on Tuesday. The water level at Kabini on Tuesday was 2282 feet as against its capacity to hold 2284 feet and at Hemavathi, the water level on Tuesday stood at 2919.64 feet as against its capacity to store 2922 feet. The water level of the Harangi reservoir stood at 2856.12 feet as against its capacity to hold 2859 feet on Tuesday.
With the Cauvery flooding Hogenekal on its way to Mettur dam, the entry to the tourist spot has been banned. Going by the weathermen between June 1 and July 15 south interior Karnataka covering Mysuru, Chamarjnagar and Mandya received 21% more rainfall than usual, and the Malnad, including Kodagu, received 38% excess rainfall.  Kodagu alone received 40% more rain than usual for this period. Coastal Karnataka too has received 16% more rainfall than usual.  Only north interior Karnataka has received 9% less rainfall than usual so far this monsoon.