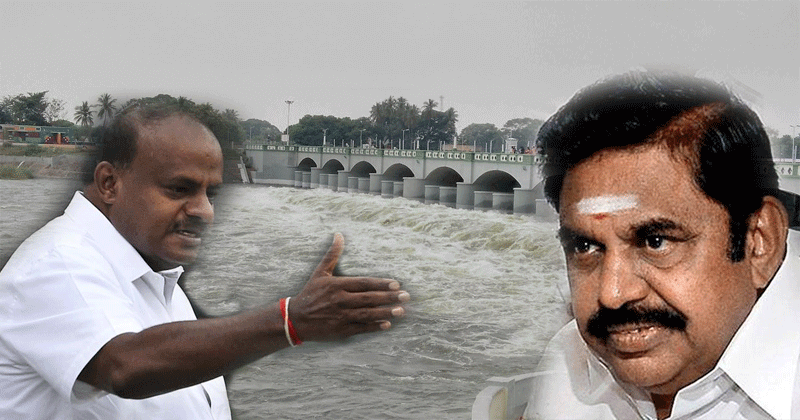 The Cauvery water row is still a hot topic between the Karnataka and the Tamil Nadu.
On the 2nd of July, in New Delhi, the Cauvery Water Management Authority (CWMA) is to take place.
Ahead of the meeting the 2 states strategize their viewpoints, options & arguments with their respective heads.
Karnataka Chief Minister HD Kumaraswamy called an all-party meeting on Saturday.
The state government has nominated two senior officials as its representatives to the Authority and the Committee under 'protest' so as to 'block' any further 'damages' to the state's interests.
Meanwhile, Tamil Nadu Chief Minister Edappadi Palaniswami chaired a high-level meeting on Friday to discuss on the CWMA.
Tamil Nadu would be represented by Public Works Department (PWD) Secretary SK Prabhakar who is the state's representative in the CWMA. Friday's meeting was chaired by the CM and had the Deputy CM O Panneerselvam, Education Minister KA Sengottaiyan, Power Minister P Thangamani, Agriculture Minister R Doraikannu, Food Minister R Kamaraj, Handlooms minister OS Manian, Fisheries Minister D Jayakumar, Law Minister C Ve Shanmugam and other senior officials in attendance.
READ ALSO: This is Gowda' s mantra to Kumaraswamy on dealing with BJP
A presentation was made on the water storage and requirements for the Kuruvai crop in delta districts.
According to the sources, Tamil Nadu plans to utilize the opportunity to demand the implementation of the February 16th's verdict by the Supreme Court on the Cauvery issue.
Karnataka has so far been releasing only the excess water received due to monsoon and is yet to begin the release of Cauvery water to Tamil Nadu as per the monthly schedule. The government would also urge the release of Cauvery water to Mettur dam to facilitate agriculture in the delta districts.
Tamil Nadu will also press for the need to link Mahanadi, Godavari, Krishna, Palar, Cauvery and Vaigai rivers to make use of the excess water.
The July 2nd meeting will be used to demand the apportionment of the state's water share from the Cauvery in three equal instalments, as well as urge the authority to include a provision to call for emergency meetings to be included in the rules of business of the CWMA which will be finalised on Monday.
The Centre had on June 22 constituted a nine-member Cauvery Water Management Authority and Cauvery Water Regulation Committee, comprising representatives from Tamil Nadu, Kerala and Puducherry. Karnataka had not nominated its representatives.
The central government notified the formation of a Cauvery Water Management Authority on June 1, as per the orders of the Supreme Court in February.