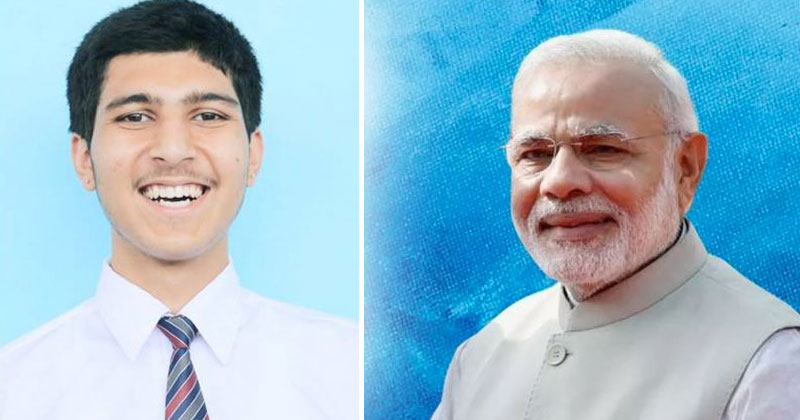 Prime Minister Narendra Modi on Wednesday posted a letter sent to him by Sakshi Pradyumn who secured 99.5 percent marks in Class 12 ISC Board examination held this year. In the letter, Pradyumn thanks Modi for presenting students with 'Exam Warriors' that helped him concentrate on studies and let her prepare for the exams. Posting the letter on social media, Modi writes, "Thank you Sakshi for this wonderful letter. I am glad that #ExamWarriors helped you during your exam preparations. My best wishes."
Thanking the Prime Minister, Sakshi in his letter writes, "The book was priceless as it not only gave me mantras to concentrate, relive the stress, and increase confidence but also be jovial even during tense moments of board examination and other competitive examinations." The letter describes how she could remain "jovial even during tense moments of board examination and other competitive examinations" due to Exam Warriors. She again thanks Modi for the book that provided "the much-needed impetus" that helped to "reach the peak student" in him
Here is Prime Minister Narendra Modi's tweet:
Also Read: APJ Abdul Kalam's 'Vision 2020' to be fulfilled by PM Modi's 'New India'?
In the letter, she praises the PM for the beautiful quote "Let us be warriors, not worriers". Pradyumn who is from Lucknow secured "a score of 100 in Mathematics, Physics, Chemistry, Computer Science, and 99 in Hindi and 98 in English". Earlier this year in March too, the Prime Minister had tweeted thanks to two students who wrote to him thanking him for 'Exam Warriors'. He had said that he was glad the book helped them in preparing for the exams.
Modi released a book titled 'Exam Warriors' earlier this year to help students cope with the pressure of board exams. It is believed that the idea for the book has come from Modi himself after receiving a good response to his monthly 'Mann ki Baat' addresses.