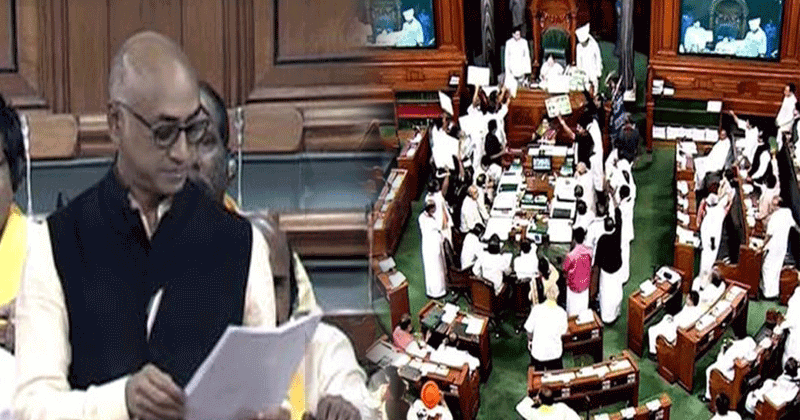 The no-confidence motion debate has been going on for some time and the TDP has initiated the debate with their speech.
But are the numbers falling?
The debate began at 11 AM with the numbers stacked in favor of the ruling government BJP.
But Shiv Sena, BJP oldest ally has abstained from participating in the no-confidence motion. Several other fence-sitters – AIADMK, TRS and the BJD – were likely to abstain, tilting the scales further in BJP's favor. The ruling disposition, which has hauled all heads to Parliament today, is likely to get nearly 350 'ayes' if the vote goes through in the evening after the debate ends at 6 pm. The Opposition has 154.
Opposition parties, which hope to 'expose' the ruling government, appear to have fallen into a political trap by moving this motion as a defeat is certain. The debate preceding the vote has just given Prime Minister Narendra Modi the opportunity to kickstart the BJP's 2019 election campaign.
A senior Congress leader indicated that if the motion ends up being "a battle of rhetoric between Modi and Rahul, then one knows who is the better orator".
READ ALSO: Modi to speak for 3.5 hours at no-confidence motion debate in Parliament
WHAT HAPPENED SO FAR
True to speculation, Odisha's Biju Janata Dal MPs walked out as soon as the debate began. They later said this move should not be seen as an attempt to "help the BJP government". The majority mark fell to 258.
Shiv Sena also decided not to attend Parliament on Friday.
TDP's Jayadev Galla initiated the debate. He said Andhra Pradesh was divided in 2014 in an undemocratic way, by bulldozing Parliament. "Andhra Pradesh was burdened by huge revenue deficit, a mammoth loan. AP has very few sources of revenue generation. Telangana was already a state. AP is a new state, but has got less funds. AP has been the loser in all aspects, it is languishing at all fronts despite talent," Galla said. "You raised the expectations of the people of AP only to shatter them. The BJP will be decimated in Andhra like the Congress was. This is not a threat, but a shraap," he added. He also criticised the BJP's move to field corruption-accused candidates in the Karnataka elections, stating it blunted Modi's 'na khaaonga, na khaney dunga' promise. Galla attacked the Congress too for going back on promises made to Andhra Pradesh.