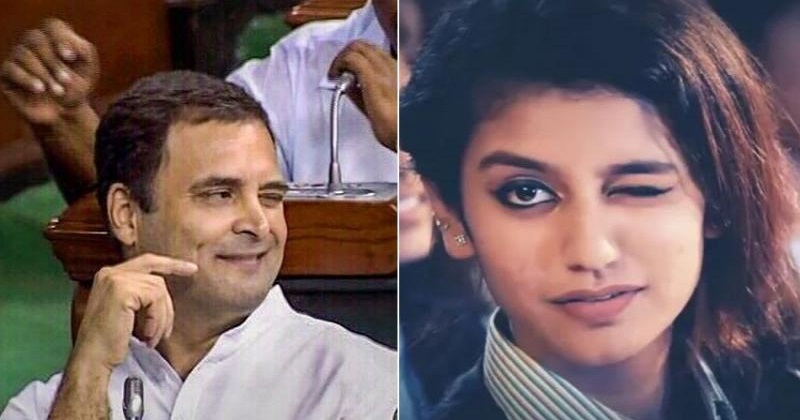 Tollywood actress Priya Prakash Varrier's 'wink club' has a new entrant and it is none other than Congress President Rahul Gandhi, whose 'hug and wink' act in Parliament on Friday created a furore on social media. The actress, who shot to overnight fame, broke her silence on Rahul's wink.
"I have come back from college to see the news that Rahul Gandhi has winked at our Prime Minister Narendra Modi at Parliament. He has greeted him with the wink which is a very sweet gesture and I am very happy that it was my signature move in the movie where I started off. So, yeah, today I'm very happy, " Priya told ANI.
After launching a series of attacks on BJP and Prime Minister Narendra Modi, Rahul 's impromptu hug with him dominated the headlines and gave birth to incessant memes on social media. Rahul's gesture totally flabbergasted the Prime Minister at first but he soon returned the favour with a handshake. After returning to his seat in the Lok Sabha, Rahul winked at fellow MPs which was captured on camera.
Also Read: Rahul or Priya? Internet Can't Decide Which Wink is Better, What You Think?
"You all must think that I have a lot of hatred in my heart against the Prime Minister, but actually that is not the case. In fact, Modi Ji, the BJP, and the RSS taught me the meaning of being a member of the Congress party. They have taught me the meaning of being Indian. They have taught me the meaning of being a Hindu and a devotee of Lord Shiva. Being an Indian and being a Congressman means no matter what falsehood someone speaks against you, you do not harbour ill-will against them. For this, I thank you," Rahul had said before hugging Modi.
Priya Prakash, on the other hand, again became a hot topic on social media as the Twitterati was quick to draw comparisons between her wink and Rahul's.