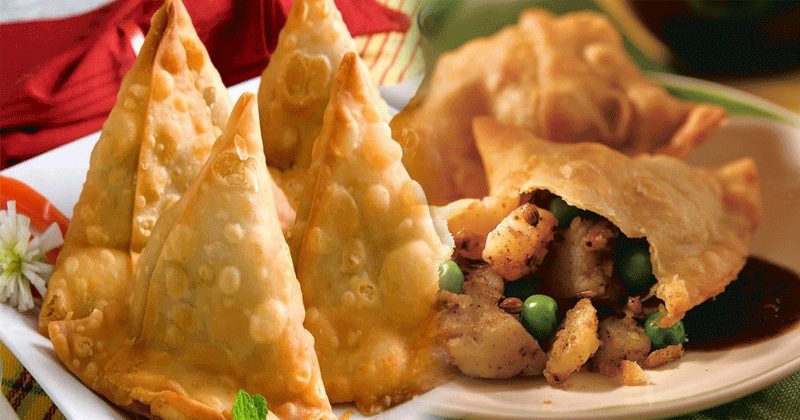 Tired of same old 'aloo samosa'? Then snack on these delicious Veg Chinese Samosa
Veg Chinese Samosa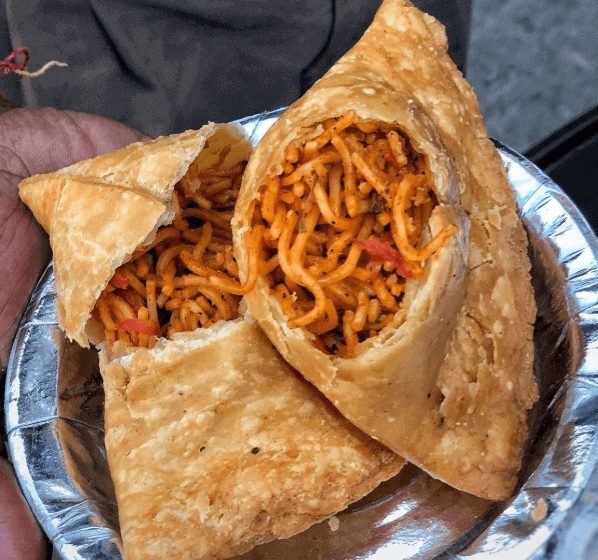 Preparation Time: 20 mins
Cooking Time: 20 mins
Total Time: 40 mins
Makes: 12 samosas
Ingredients
For The Dough
1 cup plain flour (maida)
a pinch of salt
1 tsp carom seeds (ajwain)
2 tbsp ghee
For The Stuffing
2 tbsp oil
1/2 tsp chopped ginger (adrak)
1 tsp chopped garlic (lehsun)
3/4 cup shredded cabbage
1/2 cup grated carrot
2 tbsp french beans, diced in small pieces
2 tbsp green spring onions , white diced in small pieces
1/2 tsp m.s.g (optional)
1 tsp soy sauce
1 tbsp vinegar
1/2 tsp freshly ground black pepper powder
salt to taste
2 tsp sugar
3/4 cup boiled noodles
Other Ingredients
For Serving
READ ALSO:  Ramadan Special Recipe : Malabar Samosa
Method
For the dough
Combine the maida, salt, ajwain seeds and ghee mix well in a bowl.
Add a little water and knead to make a tight dough.
Cover and rest it for 10 minutes.
Knead again and divide into 6 equal portions. Keep aside.
For the stuffing
Heat oil in a pan add the ginger and garlic and saute for few minutes.
Add the cabbage, carrot, french beans and spring onions and saute for 5 minute on slow flame.
Add m. s. g. , soya sauce, chilly vinegar, black pepper powder, salt and sugar mix well.
Add the noodles and mix it gradually and cook it for a minute. Remove from the flame.
Divide the mixture into 12 equal portions and keep aside.
How to proceed
Roll out each portion dough into a thin oval chapati. Cut into half.
Take one half and apply little water on the straight edge.
Fold the edge to make a cone such that watered edges are overlapped and sealed.
Put the stuffing into it and seal it to make a samosa.
Repeat the step 3 and 4 to make 12 more samosas.
Heat oil and deep fry the samosas on medium flame till it turn golden brown from all the sides.
Serve hot with tomato sauce.