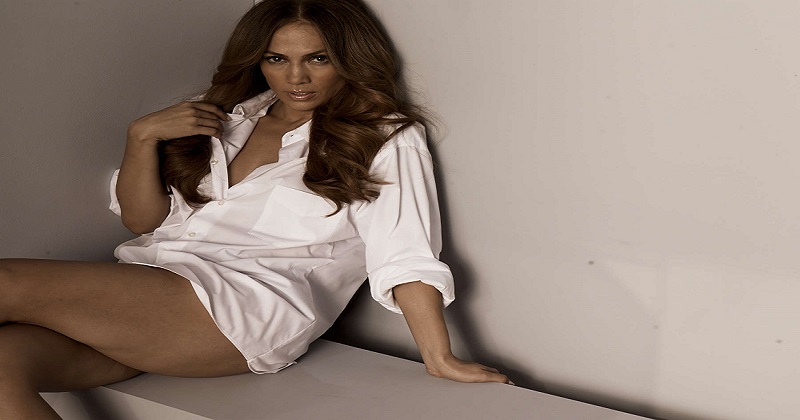 Jennifer Lopez is not the one who wants to be in that same old boring attire. She has always been known for her style and ravishing sartorial choices and often takes the Internet by storm. The latest appearance of the singer-actor has been no different. Recently, the Shall We Dance star stepped out in a pair of Versace boots made of jeans and the Internet had a meltdown.
READ ALSO: Attention All Mia Khalifa Fans! She has a Boyfriend Now. Know Who he is?
The singer was recently seen at the MTV Studios and Music Choice Headquarters in New York City in a short white shirt dress and her signature hairdo – hair pulled back into a sleek, long ponytail. The singer-actor rocked the 'lampshade' look — apparently what you call wearing an oversize T-shirt that covers up your shorts and makes you look like a lamp shade — with a pair of slouchy over-the-knee boots that were made entirely of the blue jean fabric. The design is from Versace Resort 2019 collection.
But the twitter folk is still confused if she was wearing boots or her pants were falling off. Check Out some reactions
@JLo @Versace boots look like she forgot to pull up her pants after going to the restroom… mama, u are a fashion icon.. but this… this is a sin! pic.twitter.com/Besv8Tr5eP

— Nene (@Zole32) August 1, 2018
That awkward moment when you thought that @JLo's pants are falling. #Versace #boots #pants #funny pic.twitter.com/m24wnmpYrV

— Vanne Butter (@Xenitas) July 31, 2018
These pants are very IDEAL for people who have diarrhea throughout the year. ?? #JenniferLopez #VersaceResort19 #VersaceCelebrities pic.twitter.com/x4JRXNvxba

— Adeel Afzal (@MiaanSays) August 1, 2018
Hmmmm that's gonna be a hell nah from me #jlo I mean they even have belts ? I guess going for a poop is a lot easier when your pants are your boots ????? #fashionfail #jenniferlopez #thelibraloungewithkeisha pic.twitter.com/okREXkEh0w

— The Libra Lounge with Keisha (@Libralounge) August 2, 2018
Finally, jeans for the Indian style toilet. pic.twitter.com/B6O035BEoN

— Kautuk Srivastava (@Cowtuk) August 1, 2018
#VersaceBoots Men Version ?? pic.twitter.com/J9eEgLb0XW

— RAAVAN MAHARAJ ? (@oosaravelli9999) August 2, 2018