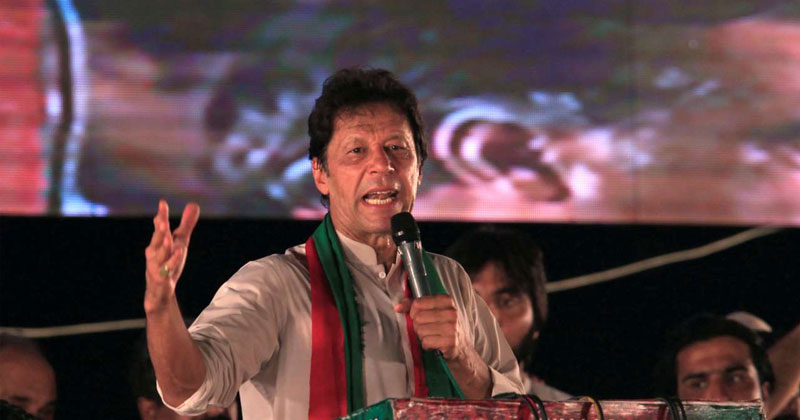 Just 2 days left for Imran Khan to swear in as the Prime Minister of Pakistan. But it seems that the swearing-in is conditional.
Imran Khan is all set to turn the pages of Pakistan's political history as he pads up to become the next Prime Minister after the Pakistan Tehreek-i-Insaf (PTI) unanimously approved his candidature for the top post. But the confusion over who will hoist the national flag on Independence Day still continues.
The Election Commission of Pakistan (ECP) has conditionally allowed the former cricketer to take oath as a member of the National Assembly as it has withheld his victory notifications from two constituencies and declared him winner from three others from where he contested the July 25 general elections.
The 65-year-old PTI chairman has been allowed to take oath as the member of the National Assembly from one of the three constituencies subject to the ECP's decision in the pending case of violation of the election code of conduct against him. It is most likely to take place on August 14.
READ ALSO: A Case Of Mistaken Identity: Bollywood Actor Congratulated Instead of PM
While Khan wished to take oath in a simple ceremony on August 11. However, caretaker PM and retired Justice Nasirul Mulk wanted the oath-taking ceremony on August 14, according to caretaker Law and I&B Minister Syed Ali Zafar. The summary has been moved to convene the inaugural session of the newly-elected National Assembly between August 12 and August 15, he added.
Zafar informed the media outside the Supreme Court that the ECP is in the process of completing the legal process before summoning the session. Unveiling a tentative schedule of the National Assembly formation, the minister said that the Commission is already engaged in making necessary arrangements required to hold the PM's election on the desired date.
After printing of ballot papers for the election of Speaker and Deputy Speaker, they could be elected on August 13 and the PM the next day. If the National Assembly Session is called on August 12, the PM would be elected on August 15, Zafar added. "We want the new PM to take oath on Independence Day so that the new government can start functioning fully for the country's progress."
As per the Constitution, the first Session of the National Assembly would have to be summoned within 21 days after the general election by August 15.
The ECP after giving time to independent candidates to join a political party or stay independent would issue position of parties in the Assembly, Zafar said. Subsequently, the Commission would issue a list of winning candidates on a reserved seat for women and minorities.