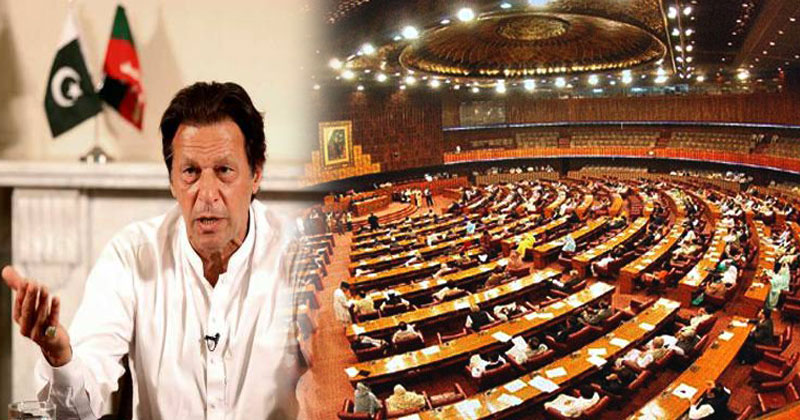 Creating history, Pakistan will be swearing in the next set of lawmakers into the National Assembly TODAY.
On Monday, Pakistan's 3rd unchecked and uninterrupted rule will witness the oath taking of the newly-elected members of the 15th National Assembly.
The oath-taking will be administered by the previous Speaker of the National Assembly Ayaz Sadiq.
In this regard, a delegation of Pakistan Tehreek-e-Insaf (PTI) the single majority party in the Parliament called on him on Sunday and discussed matters related to the maiden session of the Parliament.
PTI's Fawad Chaudhry and the party's nominee for NA speaker Asad Qaiser were heading the delegation.
Later while talking to media they vowed to establish a "working relationship" with other parties including PML-N. Outgoing NA Speaker Ayaz Sadiq was also present on the occasion.
READ ALSO:  Is Imran Khan The Right Number For Pakistan? Well, PK Says He Is
On matters of public interest we look forward towards Opposition's constructive, positive role, said Fawad Chaudhry.
The PTI team also invited Sadiq to the oath-taking ceremony of PTI Chairman Imran Khan for the office of prime minister on August 18.
In the wake of the successful and generally peaceful elections of July 25, 2018, PTI-led coalition is all set to form its government at Centre, in Khyber Pakhtunkhwa (KP) and Punjab by proving its majority in the National and these two provinces' assemblies.
National Assembly Secretariat staff is working round the clock, even on Saturday and Sunday, to facilitate the members of the Assembly to help, guide and assist them.
A control room has been set which will remain 24/7 for the collection of necessary information from the MNAs, like their photographs, issue them Folders/Bags, necessary guidebook, a copy of Assembly's rules, 1973 Constitution and preparation of their gate passes and the opening of their accounts.
Besides, to ensure foolproof security and to meet the overwhelming number of requests from different corners for attending the opening session of the National Assembly, only two galleries passes are being issued to each member of the National Assembly for their guests and that too on written requests.
According to a staff member, not only the elected members but also those named by the parties on the reserved seats—women and minority representatives— are going to take the oath of their office on Monday. Since 2008, elections are being held continuously in Pakistan after every five years and the birth of civilian government out of the dictatorial womb is unprecedented in the country's history.