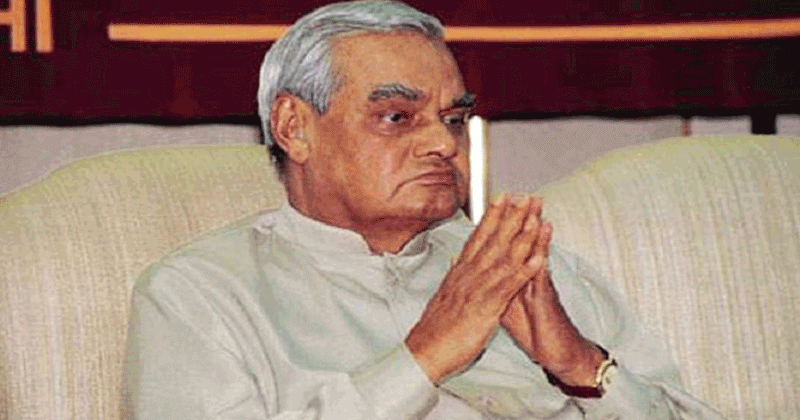 Former prime minister Atal Bihari Vajpayee will be cremated at Smriti Sthal on the bank of Yamuna in New Delhi at 4 pm on August 17, 2018. Vajpayee's mortal remains will be kept at his residence 6-A Krishna Menon Marg on Thursday night and people will be allowed to pay their last respect from 7.30 am to 8.30 am. Vajpayee's body will be taken to the Bharatiya Janata Party (BJP) headquarters at 11 Ashoka Road at around 9 am for the common people to pay their respect.
His final journey will start at 1 pm on Friday from the BJP headquarters towards ITO. From there it will go towards Delhi Gate, Rajghat (the memorial of Mahatma Gandhi) and then Smriti Sthal where the last rites will take place. He died on Thursday evening after a prolonged illness at New Delhi's All India Institute of Medical Sciences (AIIMS).
The Centre has declared seven days of national mourning for Vajpayee, who became the prime minister of India thrice. The National Flag will be flown at half-mast till August 22, 2018, as a mark of respect for the departed leader.
Read More: Incessant Rain leads to Multiple Landslides in Karnataka: Relief Camps Opened
Leaders from across the political spectrum paid rich tributes to Vajpayee. President Ram Nath Kovind, Prime Minister Narendra Modi, Congress president Rahul Gandhi, union ministers and chief ministers recalled Vajpayee as a great statesman, orator and leader who believed in developing consensus on all major national issues.
Vajpayee retired from active politics in 2005, a year after the BJP-led NDA lost the Lok Sabha elections.
He became the prime minister for the first time in 1996 but was in power for only 13 days after the NDA failed to secure a majority, forcing him to resign before the vote of confidence. He took over as the Prime Minister of India for the second time in March 1998 but lost a trust vote in October 1999.
Under his leadership, the BJP-led NDA won the elections in 1999 and he was sworn in as the prime minister for the third term.