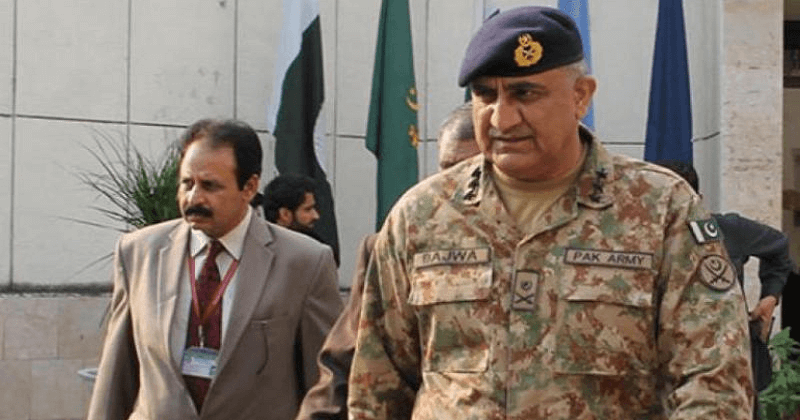 Pakistan's Army Chief General Qamar Javed Bajwa rebuffed claims from Kabul that Islamabad supported the Taliban in carrying out an attack in Afghanistan's Ghazni city.
In a statement, Bajwa said, "COAS reiterates that there is no support to any terrorist activity inside Afghanistan from Pakistan side. The alleged return of injured/dead terrorists from Ghazni is incorrect."
Though, the Pakistani Army Chief also stated that "there are scores of Pakistanis, mostly laborers working in Afghanistan, who periodically fall victim to terrorism acts alongside their Afghan brothers inside Afghanistan."
Bajwa's denial came after Afghan President Ashraf Ghani questioned the Pakistani Army Chief that why the Taliban militants accused of carrying out the attack in Ghazni were receiving treatment in Pakistan hospitals.
"General Bajwa, you signed a document with us and told me repeatedly in our conversations over the phone that when the elections (in Pakistan) are over you will pay attention to it. I need answers now. From where they came and why are they receiving treatment in your hospitals," the Voice of America quoted Ghani as saying.
Bajwa, further in defense of Pakistan, said, "Moreover, different factions of TTP (Tehreek-e-Taliban Pakistan), hiding in many sanctuaries inside Afghanistan under Afghan identities on becoming injured/ dead are transported into Pakistan for medical help. Additionally, Afghan refugees and their relatives also resort to similar practices."
Read More: This is what happened when a female tried flirting with Sunny Leone
Strengthening his stand, Bajwa urged Afghanistan to look for a solution within its territory, while assuring that Islamabad is making all efforts to combat terrorism in the region.
"The Afghan government needs to look inward as the problem resides inside Afghanistan. The solution thus remains on making substantive progress on Afghan reconciliation efforts as well as on the speedy implementation of Afghanistan Pakistan Action Plan for Peace and Stability (APAPPS)," the Pakistan Army Chief noted.
Pakistan's Foreign Office also rejected reports of the Taliban militants receiving medical treatment in Pakistani hospitals.
Foreign Office spokesperson Mohammad Faisal was quoted by The Express Tribune as saying, "Kabul hasn't officially shared any information or evidence with us so far. In the absence of official communications through regular channels established bilaterally, such reports cannot be given any credence, and can only be viewed as malicious propaganda to vitiate the existing cooperation between the two countries."
On August 13, Afghanistan confirmed that more than 100 people were killed and over 150 others injured after the Taliban launched an attack in Ghazni. The Afghan President had visited the war-affected city last week to take stock of the situation and ordered an investigation into the attacks.