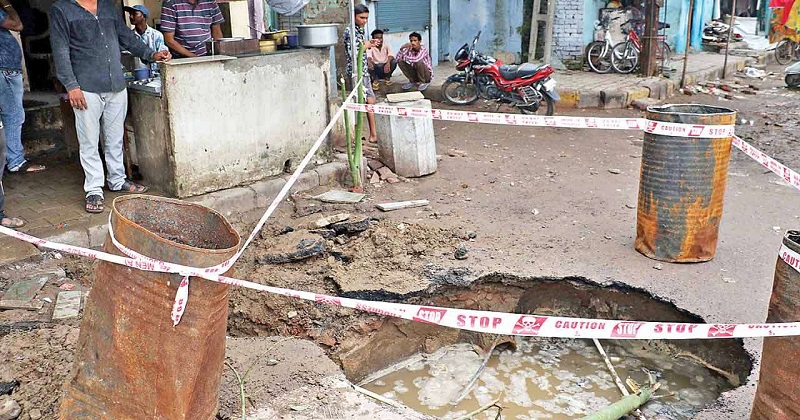 Since 2013, the city has witnessed 427 cave-ins. The Ahmedabad Municipal Corporation (AMC), on Tuesday, briefed the media about the technical aspects of why cave-ins are happening in the city and explained that such incidents are owing to old drainage systems.
"In the current year, 59 cave-ins have been reported, of which 36 were major breakdowns while 23 were minor. Our team has studied and found out the reasons behind the occurrence of cave-ins. For further technical support, we will consult with IIT Gandhinagar," said Municipal Commissioner Vijay Nehra of the AMC.
Majority of the cave-ins have been taking place on the old drainage lines or stormwater lines. Providing more details about the methods adopted by the civic body, Jagdish Patel, city engineer, said, "After checking details of the cave-ins, we have found out that most of the occurrences were on the old drainage line of roughly around 40 years of age. To strengthen the old lines, we have been using glass reinforcement pipe, cured-in-place pipe and machine, and machine-wound slip lining to rehabilitate phase-wise since 2015."
Read More: Farmers agreed to hand over their land for Jewar International Airport
"Between 2015 and 2017, we have rehabilitated 2.5 km of network using these methods. In this fiscal, we have made provisions to repair, rehabilitate and replace five times more network than what has been covered in the last three years," added Patel.
The city engineer further said that as per an estimate, 42 km of a network has been identified which falls under the category of 40 years of age and that needs to be rehabilitated. He also said that this fiscal budget has a provision to install a new sewage line with HDPE coating (High-density Polyethylene) to control damage due to gases and chemicals in drains.