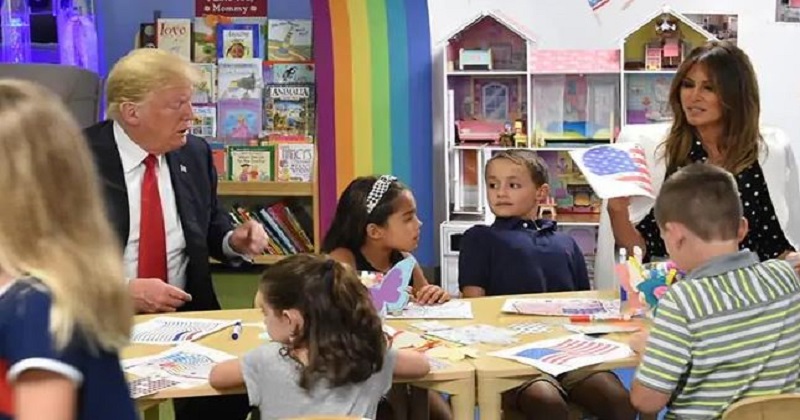 Donald Trump has been mocked for appearing to have coloured in the US flag incorrectly during a visit to a children's hospital in Ohio. The US president was photographed adding a blue stripe to an outline of the star-spangled banner, rather than correctly filling in the 13 alternating red and white stripes, representing the original colonies.
READ ALSO: This is What Trump Administration Said About its Partnership With India
Alex Azar, the Secretary of US Department of Health and Human Services, tweeted photos of Trump with US First Lady Melania Trump at the hospital, colouring pictures including the US flag. Check out his tweet.
The opioid crisis is one of our top priorities at HHS, with a drumbeat of action on the full range of efforts where we can assist local communities. Today, I joined @POTUS & @FLOTUS in Ohio to learn how states and communities are responding to the challenge of opioid addiction. pic.twitter.com/NwxSoeNznA

— Alex Azar (@SecAzar) August 25, 2018

The fact that the POTUS apparently forgot what the American flag looks like left many on Twitter outraged. Check out some reactions:
Trump couldn't even color in the American flag correctly.

He must have been thinking of the Russian flag instead. pic.twitter.com/qx6jptgoi1

— Kaivan Shroff (@KaivanShroff) August 25, 2018
Come for Trump coloring the flag wrong, stay for the boy who knows his is right and clocked the President trying to copy it. pic.twitter.com/VEzsRUL85G

— Emerson Collins (@ActuallyEmerson) August 25, 2018
The kids are coloring American flags. Trump is coloring…a Russian flag. pic.twitter.com/H3dGzB24qF

— ElElegante101 (@skolanach) August 25, 2018
Remember when Trump said he was a stable genius? The man can't even colour in an American flag properly ?????

— •lina• (@agirlcalledlina) August 25, 2018
it would have been easier for the president to look at the flag pin he was wearing on his own jacket to know the actual colours if he forgot about it.