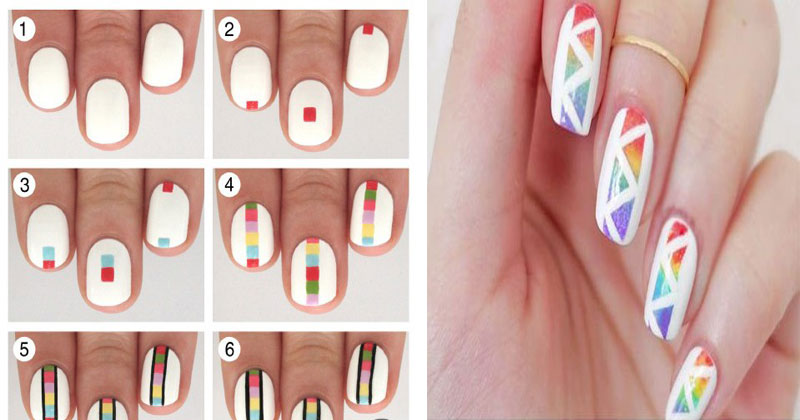 Nail art designs express their style statement in an inventive manner. This trend is picking up its craze from the time female celebrities have adorned them. The trend is also achieving its fame right among the models on the ramp to the school going girls and everybody loves to flaunt their nail art.
Let's go ahead and take a look at these rainbow nail arts.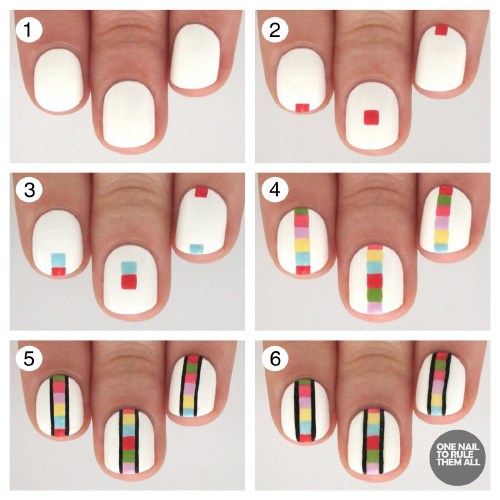 You Will Need
Small sized rectangular brush
White nail polish
Multiple colours of nail polish for the rainbow effect
Nail striper
Black nail polish
A Rainbow Ladder Nail Art Tutorial
Start with white as your base.
Now, using the rectangular brush dipped in red polish, create a square in different places as shown.
Take the next colour and do the same.
Keep doing this till you have your rainbow stripe complete.
Now, use a nail striper to create a stripe on either side, so that it looks like a ladder.
That's all! Finish off with a top coat, and you're ready to climb your ladder.
Geometric Rainbow Patterns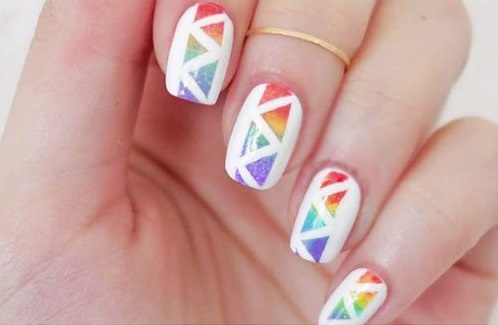 You Will Need
White nail polish
Red nail polish
Orange nail polish
Yellow nail polish
Blue nail polish
Purple nail polish
Makeup sponge
Nail striper/fine brush
Tape
Tutorial
Apply the white as a base coat.
Place two pieces of tape on either side of the nail, as shown.
Apply stripes of nail polish in the order of the rainbow onto the makeup sponge.
Dab it onto the nails till you are happy with the results.
Use a nail striper to create zigzags on the coloured rainbow ombre as seen in the image.
Seal it with a top coat – it's as easy as that.
Rainbow French Mani

You Will Need
White nail polish
Various colours of nail polish
Nail striper
Rainbow French Mani Tutorial
Start with a white base.
Pick a colour for each finger, except for the ring fingernail. This one will have all the colours.
Paint one thick layer at the tip with the nail striper, as though you were doing a French manicure. Now, create two more lines below that.
Do the same with the other colours on the rest of the nails.
For the ring finger, however, create curved lines with multiple colours so that they look like a rainbow.
There you have it – a rainbow French manicure! Don't forget to seal it with a top coat!