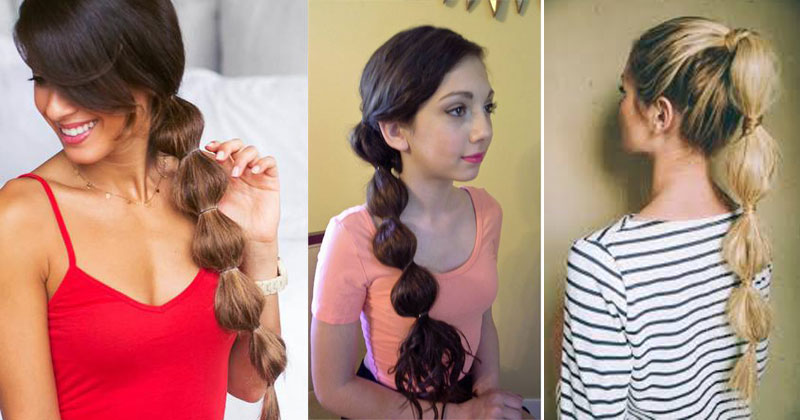 Step 1: Start with clean hair.
The best way to start with a new style is with clean hair. Make sure that your hair is at least 90% dry before you go onto the styling part.
Step 2: Brush your hair.
After your hair is dry, brush through to get rid of any frizz or flyaways that sometimes acclimate along the sides.
Step 3: Pull your hair up.
After it's brushed, pull your hair into a tight and high ponytail. Smooth out any additional flyaways with your hands or a soft brush. Once you are happy with the sides and smoothness, pull out a small portion from the side of your hair and wrap around the base of your ponytail. Slide a bobby pin in to keep that strand in place.
Step 4: Create your bubble.
Use small clear ponytails to create the bubbled look. Start at the top of your pony just beneath the base of the style.
Step 5: Repeat the bubble.
Make your way down your hair, creating small ponytails as you go. The finished style and a number of hair ties you'll need depend on the length of your hair.
Step 6: Keep it smooth.
Flatten out any additional frizz or flyaways with a smoothing cream.
Step 7: Wear it proud.
Wear your finished bubble ponytail with confidence!
Also Read: How To Do A Messy Topknot Hairstyle?