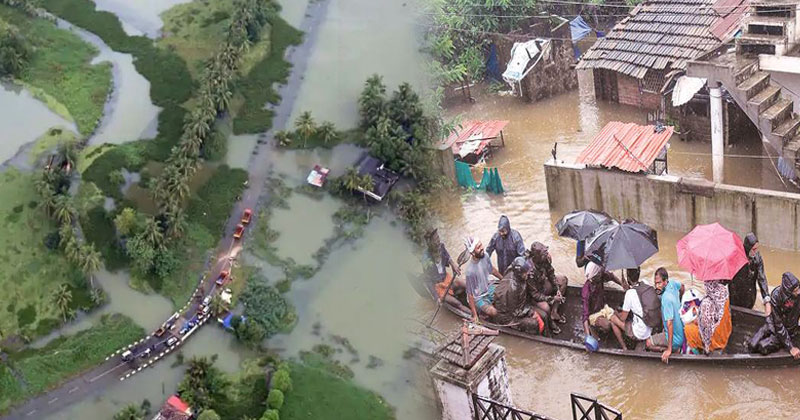 The flood-hit Kerala is slowly limping back to its routine life, although in many places the effects of the flood can still be seen.
On Thursday, the state government has submitted a memorandum to the Center seeking Rs. 4700 crores in compensation.
The memorandum was sent to the Home Ministry, detailing the loss of human life, properties, infrastructure & crops.
This is the procedure that is followed when a natural calamity occurs & the losses are beyond the state's capability, the government submits in a memorandum detailing the losses in various sectors and the funds required.
As per the guidelines, the Center will send in an Inter-Ministerial Central Team (IMCT) to access the damage and write up a report which will be considered  the Sub-Committee of National Executive Committee (SC-NEC) under the Union Home Ministry and by a high-level committee headed by the Home Minister who will approve of the additional assistance from the NDRF.
READ ALSO: Kerala Floods : Use the gold and wealth of Kerala's prominent temples to rebuild the state , says BJP Leader
State Disaster Response Fund (SDRF) and National Disaster Response Fund (NDRF) have a set of guideline to be followed when requesting financial help.
State Disaster Response Fund has been constituted in each state in which the Centre contributes 75 per cent for general category states and 90 per cent for special category states of hilly regions every year according to the award of the successive Finance Commissions.
According to the guidelines, the Centre provides its allocation to SDRF of each state in advance in two instalments. In case of any natural calamity, the state meets the expenditure of relief and rescue from the State Disaster Response Fund already available at its disposal.
So far, Kerala has received 600 crores from the Center & Rs 562.45 crore from the State Disaster Relief Fund.
Kerala suffered a financial loss of nearly Rs. 40000 crores.