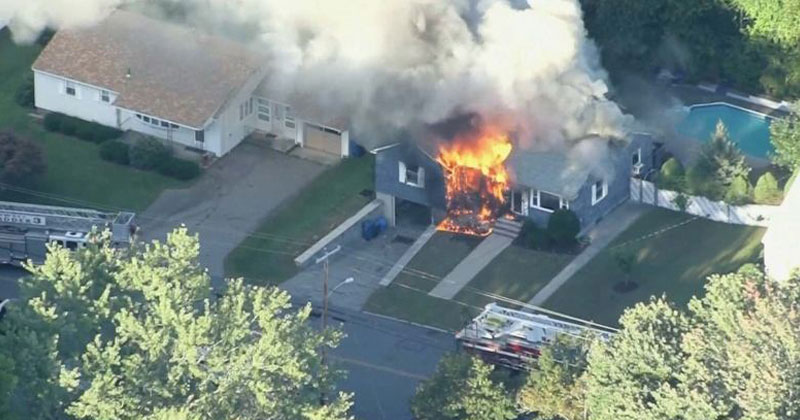 At least 4 people were injured in a series of gas explosions that took place on Thursday evening.
The explosions were triggered by a natural gas pipeline rupture. The 4 injured have been shifted
The series of gas explosions ignited fires in at least 39 homes in three communities north of Boston on Thursday as the families evacuated their homes while the firefighters from some 50 departments fought to contain the fires.
Fire investigators suspected "over-pressurization of a gas main" belonging to Columbia Gas of Massachusetts led to the series of explosions and fires.
"Columbia Gas is investigating what happened on its system today," NiSource spokesman Ken Stammen said.
Columbia Gas, a unit of NiSource Inc (NI.N), had announced earlier in the day that it would be upgrading gas lines in neighbourhoods across the state, including the area where the explosions occurred.
Massachusetts State Police urged all residents with homes serviced by Columbia Gas in Lawrence, Andover and North Andover to evacuate the homes, while schools & senior citizen centres opened their doors for the residents who fled their home.
READ ALSO: Gas Cylinder Explosion; Five Injured In West Bengal
Officials had cut power in the area and the streets were pitch black, save for emergency vehicle lights.
The three communities house more than 146,000 residents about 26 miles (40 kilometres) north of Boston, near the New Hampshire border. Lawrence, the largest of them, is a majority Latino city with a population of about 80,000.
This is not the first case as gas explosions claimed lives and properties in the US.
A buildup of natural gas triggered an explosion and fire that killed seven people in apartments in Silver Spring, Maryland, in 2016.
In 2014, a gas explosion in New York City's East Harlem neighbourhood killed eight people and injured about 50.
Six years ago, Columbia Gas accepted blame for a gas explosion in Springfield, Massachusetts that injured 17 people.
A 2011 natural gas explosion killed five people in Allentown, Pennsylvania.
More often than not, the companies flout the safety regulations, leading to leaks and explosions.