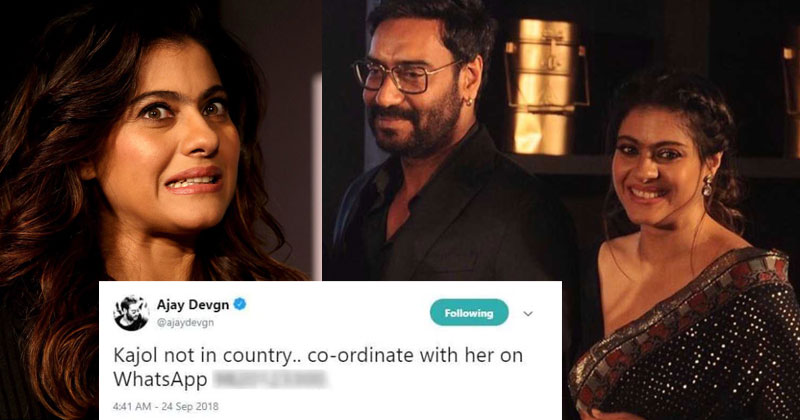 An inexplicable tweet appeared on actor Ajay Devgn's Twitter this evening making public his wife Kajol's phone number. The tweet, apropos of nothing, simply said: "Kajol not in the country, co-ordinate with her on WhatsApp 98xxxxxxx0." At the time of writing this, the tweet had still not been taken down and has been retweeted over a thousand times and counting with both Ajay Devgn and Kajol zooming up the trending list.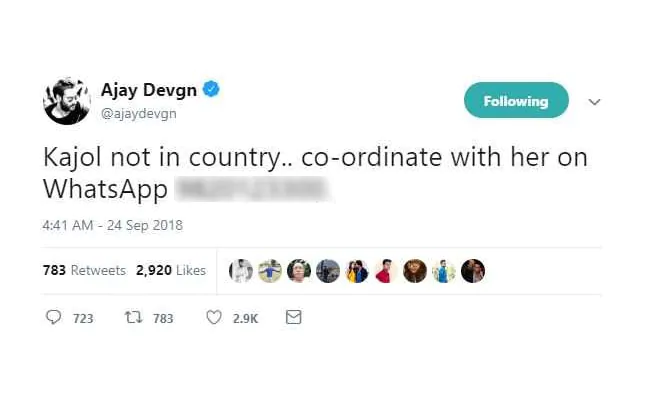 No similar message was posted on the actor's Instagram nor did Mr Devgn's Twitter appear to have been hacked in any way. Twitter, unsurprisingly utterly baffled by the tweet, reacted with both consternation and concern. Some users posted screenshots of their WhatsApp messages to the number tweeted urging Kajol, if it is indeed her number, to switch off her phone.
Unlike the accounts of Kriti Sanon, Abhishek Bachchan, Anupam Kher and others who have had their Twitter accounts hacked in the last few months, no other disturbing or suspect content was posted from Ajay Devgn's Twitter. There has been no response from Kajol, currently promoting her new film Helicopter Eela, on social media. Meantime, Twitter remains befuddled by the current goings-on.