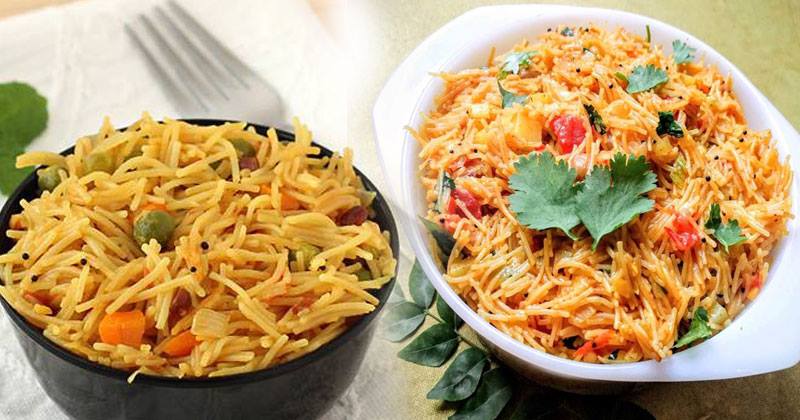 Want Indian noodles for breakfast? The try Semiya Upma- a diiferent variety to Rava Upma.
Semiya Upma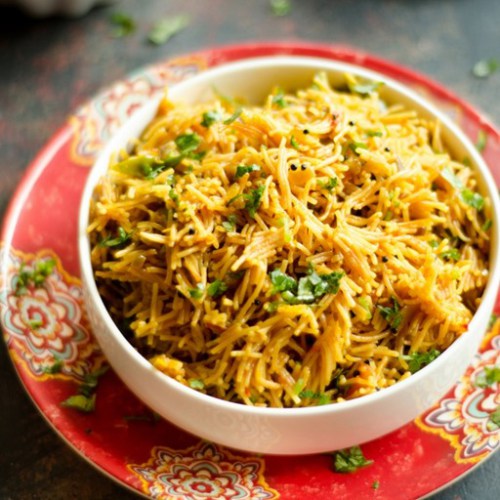 Ingredients
Roasted Vermicelli – 1.5 cups
Fresh or Frozen Mixed Vegetables – 1/2 cup (Carrots, Beans, Green Peas, Corn)
Diced Onions – 1 medium
Slit Green Chillies – 4
Curry Leaves – A sprig
Peanuts/Groundnuts – A handful
Turmeric Powder – 1/2 tsp
Red Chilly Powder – 1/2 tsp
Mustard Seeds – 1/2 tsp
Oil – 2 tbsp
Lemon Juice – 1 tbsp
Salt – to taste
Water – 3 cups
READ ALSO: Simple Eggless French Toast For Breakfast
Method
Microwave the vegetables along with salt and few tablespoons of water for around 3-4 minutes. Drain excess water if any and keep aside.
Heat 2 tbsp oil in a non stick pan and splutter mustard seeds.
Add the peanuts and roast for a few minutes until lightly browned.
Throw in the onions, curry leaves and green chillies. Saute until the onions become translucent.
Add the half cooked vegetables along with turmeric powder, red chilly powder and salt to taste. Saute for 2 minutes.
Add 3 cups of water (double the amount of vermicelli) to the pan and bring everything to a slow boil.
Slowly add vermicelli to the pan stirring continuously.
Cover and cook on medium flame until all water has been absorbed by the vermicelli. This will take around 5 minutes.
Open the pan, increase heat and cook for another 2-3 minutes so that all water evaporates and the vermicelli doesn't appear soggy.
Sprinkle lemon juice for more flavor and remove from stove top.
Note
If you are buying Plain Vermicelli which is not roasted, then heat a non stick pan and dry roast the vermicelli on medium heat until lightly browned.
For Vermicelli Upma, you need to add 2 cups of water for every 1 cup of Vermicelli.