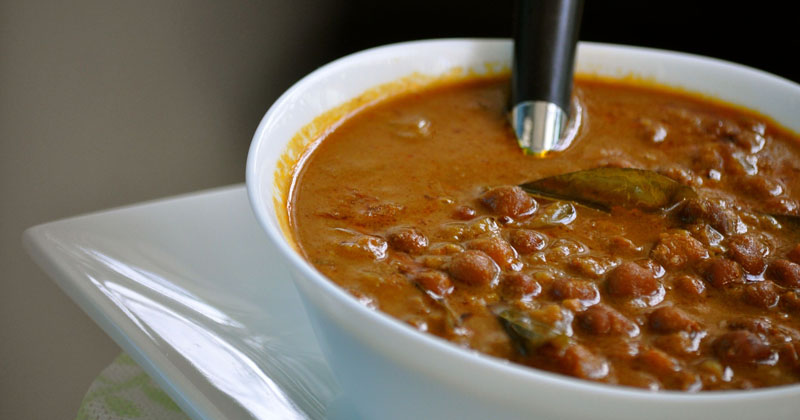 Karutha Kadala in Malayalam is commonly used in Kerala. Let's make Kerala style Kadala Curry.
Kadala Curry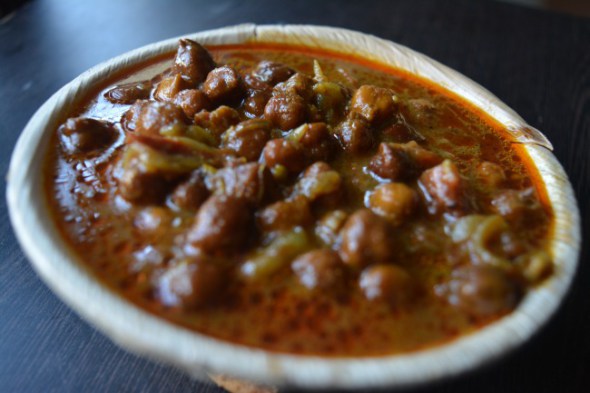 Ingredients
Bengal Gram/ Karutha Kadala (soaked overnight in water) – 1 and 1/2 cups
Garlic Cloves (chopped) – 4
Onion (sliced) – 1 large
Tomato (sliced) – 1 large
Green Chillies (slit) – 2
Curry Leaves – A sprig
Ginger Paste – 1 tsp
Garlic Paste – 1 tsp
Meat Masala/Chicken Masala Powder – 1 tbsp
Red chilly powder – 1 tsp
Coriander Powder – 1 tsp
Turmeric Powder – 1/4 tsp
Oil – 2 tbsp
Mustard Seeds – 1/4 tsp
Cilantro (Malli illa) – A few
Salt – As required
Water – As required
Thin Coconut Milk – 1 Cup
READ ALSO:  Delicious Mango Milkshake with Homemade Whole Wheat Bread
Method
Soak the Bengal Gram overnight or for at least 4 hours. Wash the Bengal gram and drain the water.
Heat 2 tbsp oil in a wok and splutter mustard seeds.
Add sliced onions and saute till the onions are translucent.
Add slit green chillies, crushed garlic cloves, curry leaves and chopped tomatoes and saute till the tomatoes are cooked well.
Next, add 1 tsp ginger paste and 1 tsp garlic paste and saute for a minute.
Add 1/4 tsp turmeric powder, 1 tsp chilly powder, 1 tsp coriander powder, 1 tbsp meat masala powder and stir-fry for two minutes.
Transfer the masala to a pressure cooker along with the Bengal gram and add required amount of salt.
Add water (around 2 cups) so as to cover the Bengal gram.
Sprinkle some cilantro leaves and mix well.
Pressure cook the kadala up to 4-5 whistles on medium flame. This will take around 20 – 25 minutes.
Remove the lid and add 1 cup of thin coconut milk. Simmer for 5-6 minutes on low flame.
Serve along with Ragi Puttu.
Notes
You can substitute Chicken/Meat Masala Powder with 1 tsp Garam Masala Powder, 1/2 tsp extra chilly powder and 1/2 tsp extra coriander powder.