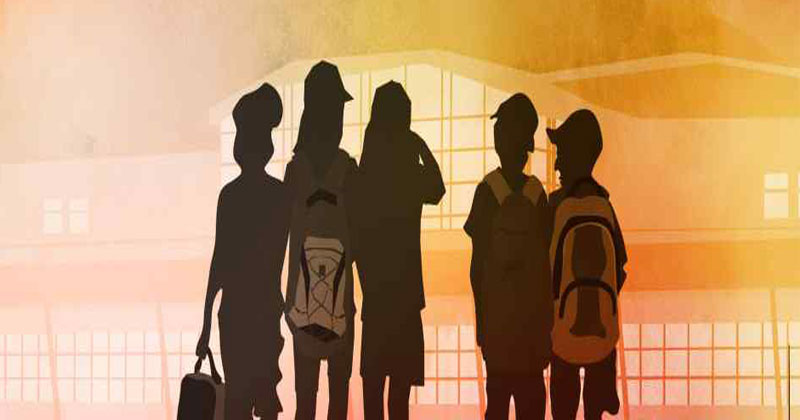 A school has been under the scanner for separating its students on the basis of their religion.
The incident occurred in a primary school in Wazirabad where the students were separated on the basis of religion.
According to a leading daily, the North MCD Boys' School, Wazirabad village, Gali Number 9, separated the students as follows:
Class IA: 36 Hindus, IB: 36 Muslims
IIA: 47 Hindus, IIB: 26 Muslims and 15 Hindus, IIC: 40 Muslims
IIIA: 40 Hindus, IIIB: 23 Hindus and 11 Muslims, IIIC: 40 Muslims, IIID: 14 Hindus and 23 Muslims
IVA: 40 Hindus, IVB: 19 Hindus and 13 Muslims, IVC: 35 Muslims, IVD: 11 Hindus and 24 Muslims
VA: 45 Hindus, VB: 49 Hindus, VC: 39 Muslims and 2 Hindus, VD: 47 Muslims
MCD schools offer education only till Class V and according to the Right To Education Act, each section should ideally have 30 students at the primary level.
This separation was done by a recently appointed teacher to take over the principal's position after the latter's transfer, and till a new one arrives.
The teacher C B Singh Sehrawat denied the allegation, stating: "Reshuffling of sections is a standard procedure which happens in all schools. This was a management decision to try and do the best we can to see that there are peace, discipline and a good learning environment in the school. Children fought sometimes. … children this young don't know about religion, but they squabble over things. Some children are vegetarian, so there may be differences, and so on. We need to look after the interests of all teachers and students."
A school source, however, said that the reshuffling took place after Sehrawat took over on 2nd July. He initiated the changes with consulting the teachers. Sehrawat became aggressive when some of the teachers questioned his methods and demanded that it was not their business.
The teachers did not give a written complaint on the matter as they feared being targeted. However, the matter reached the media through which the authorities were made aware.
They probed the accusations and found it to be true and suspended Sehrawat with immediate effect and initiated major penalty charge sheet against him.
North Delhi Municipal Corporation Commissioner called the conduct of the official as "bizarre" and "unpardonable", which "goes against the grain of our pluralistic society".
"During our probe, it was found that it was school-in-charge only, who had initiated this segregation. These are children coming from the poor background and such acts would have deleterious effects on them. We will not tolerate such things, it is unpardonable," he said.
The leading daily quoted a Class 5 student saying: "There are no Hindu boys in my class. We were together until a few months back. A good friend of mine is no longer in the same classroom."
The parents, however, are unaware of such a segregation.
A Class 1 student's unaware mother stated: "This is extremely wrong, if true. We believe all children are equal. What is going to happen if they are treated like this at the school level itself? This is very disturbing."