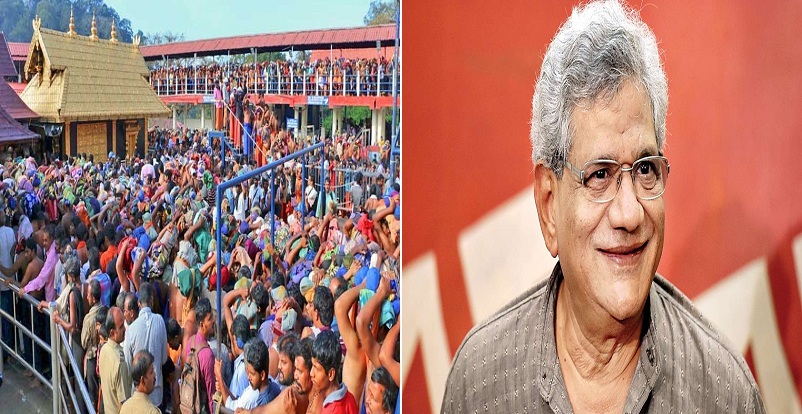 CPI(M) leader Sitaram Yechury on Friday compared the violence in Sabarimala to Babri Masjid demolition. Drawing comparison to Babri, Yechury said 'the pattern is very similar to what happened during Babri Masjid demolition'.
"All the TV crews who went there, which had your women colleagues, they were all roughed up. And, exactly the pattern is also very similar, at the time of Babri Masjid demolition. You have the heads of the volunteers wearing saffron bands. They are wearing the same dress. Now, that you found them there, the similar thing, so it is an organised thing, that the RSS is doing and that is being fought, it is being fought. it will be fought," said CPI (M)'s Sitaram Yechury.
Further, blaming the BJP and RSS for the violence in Sabarimala, Yechury said that they are doing this 'to whip up communal polarisation'.
"Their real point here is to whip up communal polarisation with the hope that this will give them this will give them some political and electoral benefit. This is the worst form of vote-bank politics which is being played in the country. Seeking the consolidation of the Hindutva communal vote bank at the expense of destroying our social harmony. And, this is very dangerous," said Yechury.
The CPI (M) leader also said that if the BJP really wants to circumvent the Supreme Court's decision, it should bring an ordinance for that.
"The BJP welcomed the Supreme Court decision saying that equality of women is sacrosanct in our Constitution. Having welcomed that, now the RSS chief says that is the matter of faith. When the Triple Talaq issue came, we at CPM have constantly taken a position that we are against the practice of Triple Talaq and its instantaneous application, so in these two counts we said that it needs to be reformed. Lok Sabha passed the bill, it came to the Rajya Sabha. In the Rajya Sabha the legislation had a lot of flaws and therefore they decided it will go to a select committee and then the Central government brought about an ordinance, on what ground? Saying that equality of men and women is fundamental to our constitution, that should be protected, therefore they brought this ordinance. Same principle, why it is not being applied to Sabarimala?" said Yechury
"Everybody knows that if Supreme Court verdict that has to be circumvented then only route available is through the Parliament of India. This government did that for the SC/ST act. Now, they are in majority in the Lok Sabha themselves," he added.