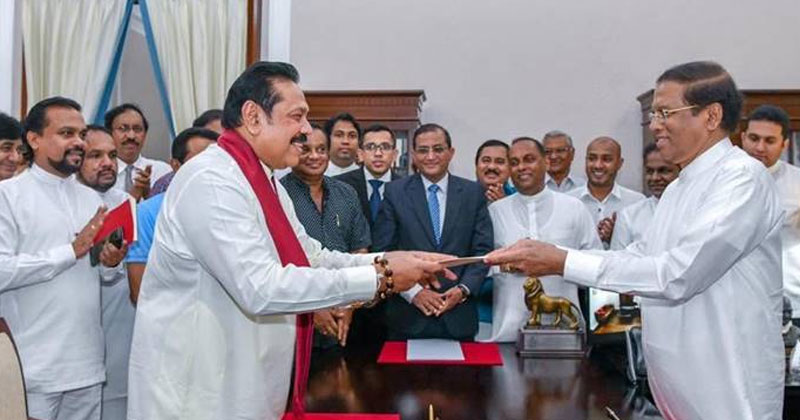 Former Sri Lankan President Mahinda Rajapaksa was sworn in as prime minister on Friday after President Maithripala Sirisena sacked incumbent Ranil Wickremesinghe in a surprise move that threatens political turmoil in the island nation.
Visuals of the former president Rajapaksa taking oath as the premier was released to media and was shown on TV channels. Rajapaksa, 72, tweeted a photo of him and Sirisena after the swearing-in ceremony. "Former #SriLanka President Mahinda Rajapaksa sworn in as new Prime Minister," he said in the tweet.
The sudden development came after Sirisena's broader political front United People's Freedom Alliance (UPFA) announced that it has decided to quit the current unity government with prime minister Wickremesinghe's United National Party (UNP).
Mahinda Amaraweera, agriculture minister and the general secretary of the UPFA, told reporters that the UPFA decision has been conveyed to Parliament. The development triggered an angry reaction from Wickremesinghe, who asserted that the swearing in of Rajapaksa was "illegal and unconstitutional".
"I retain the confidence of the house. I am the prime minister and I have the majority," Wickremesinghe said. "According to the constitution, I'm the prime minister. That is not legal."
According to some top Sri Lankan ministers they were taken aback by the development. The entire operation was a closely guarded secret and everything was over in less than two and a half hours.