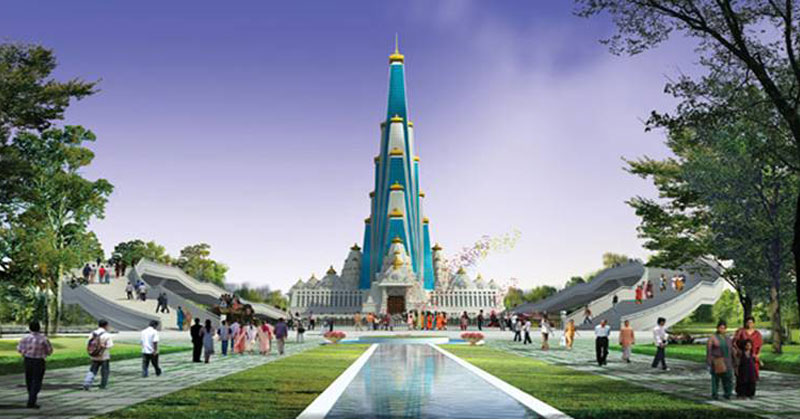 Vrindavan Chandrodaya Mandir is the world's tallest temple under-construction at Vrindavan, Mathura, India. When completed, it will be the tallest religious monument in the world. At cost of ?300 crore (US$42 million) it will be one of the most expensively built temples in the world by ISKCON Bangalore. The temple has a footprint of about 5 acres and rises to a height of about 700 feet (213 meters or 70 floors) and a built-up area of 5,40,000 sq. ft. The temple is planned to be vibrant with festivals and religious activities throughout the year. It is expected to be a must go place for every Hindu.
History Behind the Temple:
In 1972, Srila Prabhupada, the founder and Acharya of ISKCON spoke about the principle of Yuklta Vairagya right in front of the Bhajan Kutir (a simple and austere dwelling of an ascetic primarily intended to perform his spiritual activities like chanting Krishna's names, writing and teaching) of Sri Rupa Goswami (see picture) to his dozen or more western disciples who were accompanying him on a visit to Vrindavan, India. He said:
"Just like we have got a tendency to construct a skyscraper building. As in your country, you do. So you should not attached to the skyscraper building, but you can utilize the tendency by constructing a big temple like skyscraper for Krishna. In this way, you have to purify your material activities." – Srila Prabhupada's lecture in Vrindavan, 29 October 1972
Inspired by this vision and statement of Srila Prabhupada, the devotees of ISKCON Bangalore or the ritviks conceived the Vrindavan Chandrodaya Mandir project to build a skyscraper temple for Lord Sri Krishna.
The foundation stone laying ceremony of Chandrodaya temple in Mathura district was done on 16 March 2014, on the eve of the auspicious occasion of Holi. ISKCON is hoping to conclude the temple construction within 2019. It was the desire of Srila Prabhupada, Founder Acharya of ISKCON to put Vrindavan on the world map on conceiving a project to set up an iconic temple of monumental proportions.