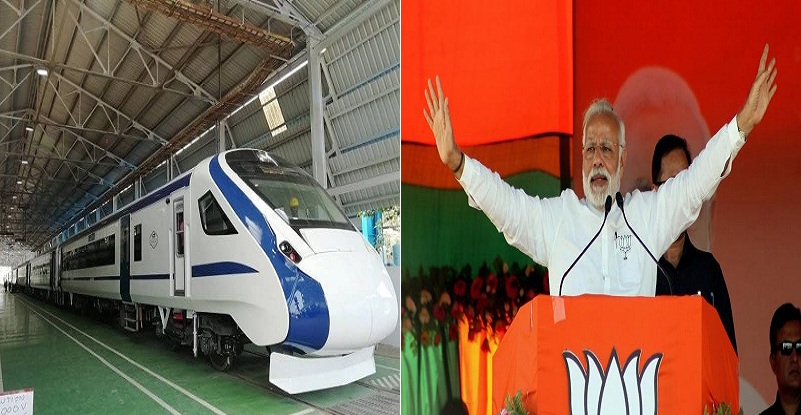 PM Narendra Modi to launch the first indigenously-built engine less Train 18 on December 25 from New Delhi to Varanasi.
"Christmas Day also happens to be the birthday of late Prime Minister Atal Bihari Vajpayee and it would be a tribute to the great statesman of the country if we manage to launch the next-generation train on that day," a senior Railways official told IANS.
Since the input cost of the Rs. 100-crore Train 18 is high, the fare structure will also be higher than the normal fare.
However, the official added that the decision on the launch date of Train 18 and fare are yet to be taken as the trial is not yet complete.
According to the tentative plan, Train 18 will start from New Delhi station at 6 am, and is expected to reach Varanasi, Prime Minister Narendra Modi's parliamentary constituency, at 2 pm.
For the return journey, the train will start at 2.30 pm, from Varanasi and reach the national capital at 10.30 pm.
It was a thrilling experience onboard Train 18 during the various trials on Sunday — including a speed run on a straight track, speed test on one degree curve at 150 kmph, and two degree curve at 140 and 150 kmph — on a 113 km stretch from Kota to Kurlasi under the watchful eyes senior Railways officials as well as those from the national transporter's Research Design and Standards Organisation.
Ladoos were distributed in the train when it clocked 180 kmph. The first sweets were offered to loco pilot Padam Singh Gurjar and his assistant Onkar Yadav.
"We are quite excited to be part of this great occasion," Padam Singh Gurjar told IANS after having the sweet.
"I feel proud to be part of this historic trial," added Mr Yadav.
It was a smooth ride for those inside — occupying rotating seats to match the direction of the train – as the Train 18 became the first train to touch such high speeds on the Indian rail network.