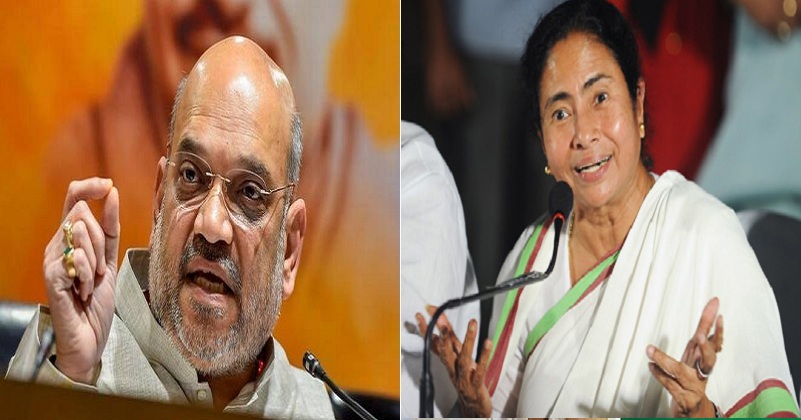 Bhartiya Janata Party President Amit Shah launched a scathing attack on Mamata Banerjee and said that a democratic process has been suppressed in West Bengal.
His comments came a day after the Calcutta High Court refused the BJP permission to hold a 'rath yatra' in Coochbehar, following the state government expressing apprehensions of violence.
The party will 'definitely' carry out 'yatras' in West Bengal and 'nobody can stop it' from doing so, said the BJP chief.
"We will definitely carry out all 'yatras', nobody can stop us. BJP committed to change in West Bengal. The 'yatras' have not been cancelled, just postponed," Shah said at a press conference.
Mounting a scathing attack against the Mamata Banerjee-led West Bengal government, he said that a democratic process has been suppressed in West Bengal, with the misuse of power. "The CM is following this trend. This is non-democratic."
Shah also said that she (Mamata Banerjee) is scared that if BJP takes out all these three rallies in the state of West Bengal and assemble in Kolkata then the foundation of a complete change will be laid down.
After the Panchayat elections, Mamata Banerjee is scared of BJP and this is why she has stopped the Rath yatra. "In every sector starting from cattle to coal, mafias are working & TMC ministers are supporting them," he said
Meanwhile, the BJP has moved an appeal before a division bench of the Calcutta High Court against refusal of permission for its Rath Yatra.
A single bench of the high court on Thursday said it cannot grant permission at this stage for the BJP rally in Coochbehar, scheduled to be flagged off by party president Amit Shah on Friday, after the West Bengal government refused to allow the event on the grounds that it might cause communal tension.