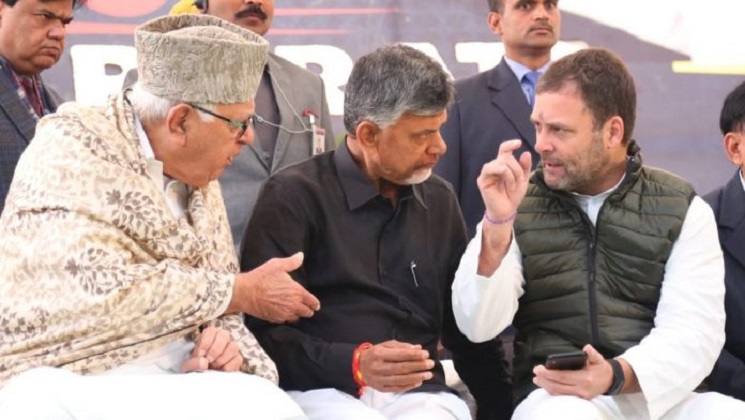 Delhi Chief Minister Arvind Kejriwal, Congress president Rahul Gandhi, National Conference leader and former Jammu and Kashmir chief minister Farooq Abdullah and Former PM Manmohan Singh met Andhra Pradesh CM Chandrababu Naidu at his protest venue in New Delhi today extend their support to the Telugu Desam Party chief..
Chandrababu Naidu launched his "Dharma Porata Deeksha" (a day-long protest for justice) at the Andhra Pradesh Bhavan to urge the centre to fulfil promises made when Telangana was carved out of Andhra Pradesh in 2014. Naidu paid tributes to Mahatma Gandhi at Raj Ghat and the Ambedkar Statue at the Andhra Pradesh Bhavan before starting his protest.
Congress President Rahul Gandhi, former Prime Minister Dr Manmohan Singh and National Conference President Farooq Abdullah
The TDP had pulled out of the NDA government on the issue of special status to Andhra Pradesh in March last year.