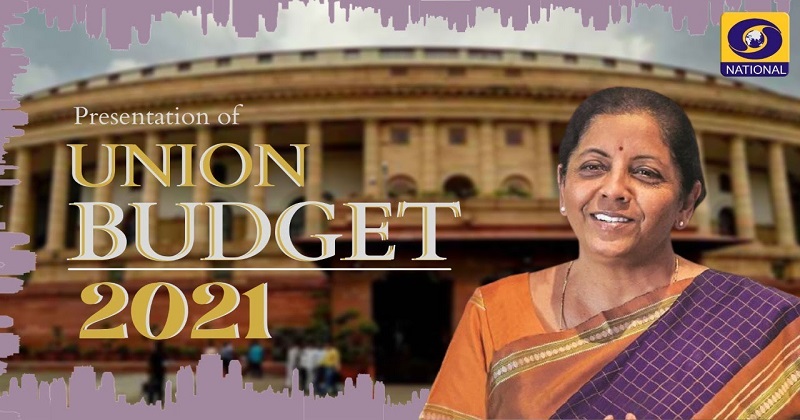 Finance Minister Nirmala Sitharaman is addressing parliament with aspects of the Union Budget 2021. She stated foreign direct investment (FDI) hike in insurance to 74 percent from 49 percent with foreign control under safeguards. The Finance Minister has set a mark of Rs 16.5 lakh crore as agricultural credit. Her budget speech comes after a challenging year for the economy due to the COVID-19 pandemic, which closed down businesses for months, leading to missed earnings, reduced consumer spending, and job cuts. "The total impact of Atmanirbhar Bharat and measures by RBI was Rs 27.1 lakh crore, which amounts to 30 percent of GDP," Ms. Sitharaman said. "2021 is a year of many milestones," she said.
The ninth budget – including an interim one – of the government led by Prime Minister Narendra Modi has put the focus on building jobs and rural development, the two areas hit hardest by the pandemic. Today's budget will have to go far beyond what the mini-budget in September 2019 achieved by diminishing corporate tax, and the consequent economy-booster announcements during the lockdown necessitated by the pandemic. The budget comes as an economic vaccine for the pandemic-battered economy and to steer India with the much-needed motive to increase demand and consumer trust.
Here are the live updates of Union Budget
Government moves to relax norms to draw more foreign investment in the infrastructure sector
Government cuts timeline for resuming of tax cases to 3 years from 6 years.
Serious tax crimes of hiding of income of over Rs 50 lakh can be reopened after 10 years.
The forthcoming census would be the first digital census in the history of India
People above 75 excused from filing I-T returns
Government to borrow Rs 80,000 crore in the remaining two months to meet FY21 expenditure
1.18 lakh crore revenue lack grant to 17 states
States to get 41 percent share of taxes as per 15th Finance Commission recommendation; the government has accepted the recommendation
Substantial investments proposed in the development of modern fishing harbors and fish landing centers.
Agriculture infrastructure fund would be made available to APMCs to augment infrastructure facilities
Proposal to set up a central university in Leh to make  higher education possible in Ladakh
A National Monetisation Pipeline of potential brown-field infrastructure assets will be launched. An Asset Monetisation Dashboard will be created for tracking progress and provide visibility to investors
3,768 crore allocated for census
Rural infrastructure fund increased from 30K crore to 40K crore.
1,000 more mandis to be integrated to eNAM
16.5 lakh crore agricultural credit target
The government on Monday announced a Rs 18,000 crore scheme to increase public transport in urban areas.  100 percent electrification of broad gauge rail tracks by December 2023.  A record Rs 1,10,055 crore will be provided for railways, of which Rs 1,07,100 crore will be for capital expenditure in 2021-22.
Our government is bound to the welfare of farmers. The MSP administration has undergone a change to assure price that is at least 1.5 times the cost of production across all commodities.
Will introduce the IPO of LIC this year.
Nirmala Sitharaman announces Rs 25,000 crore road projects in West Bengal; Rs 65,000 crores for road, highway projects in Kerala, Rs 3,400 crores for Assam
Insurance Act to be amended to increase FDI limit to 74 percent from 49 percent, says Finance Minister Nirmala Sitharaman
New scrapping policy to phase out old vehicles.
Indian Railways have a National Rail Plan for 2030
Seven port projects worth more than Rs 2,000 cr via PPA mode.
Pradhan Mantri Ujjwala scheme to extend to one crore more beneficiaries.
100 more cities to get gas pipelines.
A framework to be put in place to give power consumer options to chose discoms.
Finance Minister says 100 pc electrification of broad gauge rail tracks by December 2023.
Capital expenditure budget to increase to Rs 5.54 lakh crore in FY 2022 from Rs 4.39 lakh crore in RE for FY 2021
Budget to provide Rs 1.1 lakh crore to Indian Railways of which Rs 1.07 lakh crore is for capital expenditure.
7 'Textile Parks' to be developed in the next 3 years.
A new centrally funded scheme, #PMSwasthyaYojana, with an outlay of Rs 64,180 cr will be begun in addition to the existing schemes to develop primary, secondary and tertiary healthcare.
The budget proposals rest on these pillars: health and wellbeing, physical financial capital and infra, inclusive development, innovation and R&D, and minimum government maximum governance.